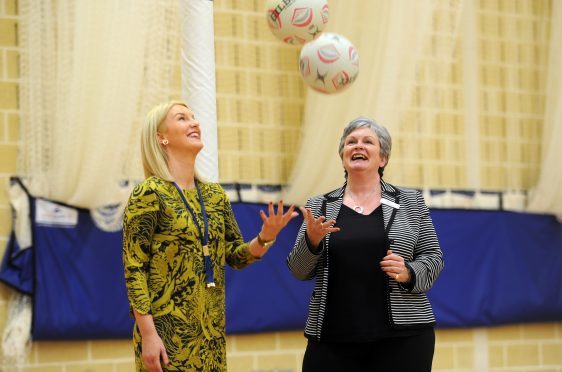 Perth is to host senior international netball for the first time in more than 30 years with the matches to be played at the new £6 million Perth College UHI academy of sport and wellbeing.
The agreement between the college and Netball Scotland has been officially endorsed by Margaret Cook, principal and CEO, Perth College UHI, Claire Nelson, CEO of Netball Scotland and Gareth McKenna, commercial manager at the academy of sport and wellbeing.
The first event will be held on December 2 and 3, with a two game test series against Samoa.
The test matches will not only be part of the preparation for the Scottish Thistles towards the Commonwealth Games in the Gold Coast in April next year, they will also provide important match practice for the second of the international events, the European-World Cup Qualifiers, which will be held on January 19, 20 and 21.
The World Cup Qualifiers will involve Scotland, Ireland and Wales vying for two qualifying positions at the World Cup to be held in Liverpool in 2019. The event is of significant importance to each country and will provide world class netball across the three days for fans of the sport.
Mr McKenna of the Crieff Road academy of sport and wellbeing  said they were "delighted" to be bring international senior netball to Perth for the first time in three decades.
College principal Ms Cook said the events were a coup for the academy and would help put the facilities on the map.
"We look forward to welcoming with Netball Scotland our guests from as far away as Samoa, Ireland and Wales," she said.
"We are delighted to play our part in bringing major events to Perth and we will use these events not only to showcase world class sport but also to showcase our college, our students and the city of Perth."
Ms Nelson of Netball Scotland added:  "The test series against Samoa and the World Cup Qualifiers are critical to our Commonwealth Games preparation and we can promise spectators an incredible series of top class netballing action.
"I am delighted to be bringing the Scottish Thistles to Perth. We look forward to seeing the Thistle army out in force to support our athletes in these vital international events."
Tickets for all events will be released in the coming weeks.