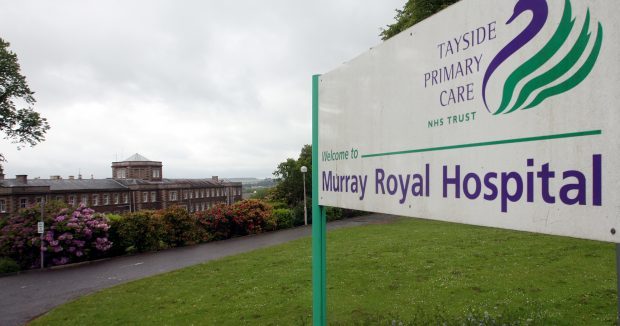 A damning survey carried out by a mental health charity in Perth has painted a picture of a service in crisis.
PLUS Perth found an overwhelming majority (88%) of more than 300 service users say mental health provision should not be transferred from Murray Royal Hospital in Perth to Carseview in Dundee, and also feel they are being ignored.
The charity also claims the plan proposed by the Perth and Kinross Health and Social Care Partnership, with NHS Tayside, has thrown local mental health teams into crisis.
The partnership's preferred option is to close the Moredun ward at Murray Royal Hospital and move the service to Carseview. The ward treats acute adult psychiatric inpatients.
PLUS Perth recently carried out a survey of 319 of its users and the results were critical of the proposal. It found 88.18% of people do not agree with the plan to move mental health services to Dundee and that 39.1% have "no confidence" and 38.78% have "little confidence" in the proposal.
A total of 98.41% of respondents stated they want mental health services to be based locally, with 97.58% saying they feel it is important to have local support for "crisis and emotional" distress.
78.03% of the respondents stated they did not believe giving their opinion via the consultation process would influence the outcome.
Susan Scott, PLUS Perth development manager, claims there is no strategy associated with the centralisation plan and hit out at the proposal, claiming it is "picking on the most vulnerable" people in society.
"The people affected don't have a voice and are made to look invisible by this plan – this is the spectre of the future.
"There is a decline in the number of people working in local community health teams – they are losing staff. As a result, we are seeing a lot more people coming into us for help and advice.
"People suffering from mental health problems need help locally, not put in hospital where you then have the internal stigma attached to that."
"The PLUS Perth survey shows the majority of people don't want the service moved to Dundee – they want it kept local, and they are not impressed by the consultation process."
Among the reasons for not agreeing to the centralisation of services, one resident said: "It's not practical for people who live more rurally in Perth."
Another PLUS Perth user added: "For those experiencing acute mental health problems being further isolated and further away from their home and family will have a significant impact."
Another resident claimed the move will result in an "increased risk" to individuals with acute mental health needs."
A spokesperson for the Perth and Kinross Health and Social Care Partnership said: "As with every service we do experience fluctuation in our staffing levels.
"However, the staffing establishments for the community mental health teams have remained stable for the past three years.
"There is strong local commitment to the development of our integrated services to support adult mental health and wellbeing and our new local mental health and wellbeing strategy for Perth and Kinross is currently being developed in full partnership and has had wide stakeholder engagement."