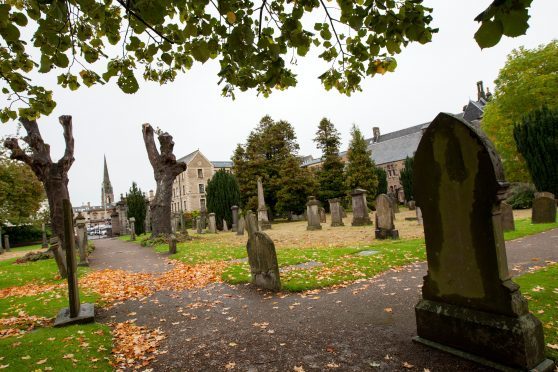 Sick vandals targeted tombstones at an ancient Perth graveyard.
The monuments at Greyfriars Cemetery were spray-painted in a malicious attack which has sent shock waves through the community.
The burial ground, which dates back to the 16th Century, is regarded as home to some of the best collections of old graves in Scotland.
However, it has become a regular haunt for drunken teenage gangs in recent years.
Police are investigating the incident which happened at lunchtime on Thursday, January 11. The damaged stones were cleared up by Perth and Kinross Council crews at a cost of around £200.
Perth City Centre councillor Pete Barrett condemned the vandalism.
"This sort of mindless desecration of a graveyard is disgraceful, the culprits should be ashamed," he said.
"I would urge anyone with information on who carried out this vandalism to contact the police or pass the information on via Crimestoppers."
The Liberal Democrat councillor added: "Greyfriars graveyard is an oasis of calm in our city centre.
"Graveyards are increasingly popular attractions for people interested in researching family roots and local history, epitaphs, gravestone rubbing and photography.
"I am pleased that the graffiti has been removed almost immediately."
One local resident, who asked not to be named for fear of reprisals, said: "The graveyard closes in the evenings, but you still see people hanging around at the gates and sometimes wandering about inside.
"It's one of the most historic sites in Perth and its such a shame to hear it's been targeted in this way. The council really needs to look at making it more secure."
Greyfriars became the burgh's main burial ground in 1580, after the kirkyard at St John's reached capacity.
It had previously been the site of the Franciscan Friary, founded by 1496 and dissolved in 1559.
The site contains a group of 18th Century stones, with traditional winged souls, hourglasses and skulls and crossbones.
A plaque at the Canal Street entrance marks the founding of the friary.
It states: "Opposite this point stood the Spey Tower demolished with the City Walls in 1766. Near it several martyrs suffered death in 1544."
The vandalism happened around 1pm, Police Scotland said.
A force spokesman urged witnesses to get in touch, or call Crimestoppers in confidence on 0800 555 111.