Businesses in a Highland Perthshire town are leading the way in cutting down on the use of plastics.
The Scottish Deli in Dunkeld is the latest firm to take the decision to move away from plastic. Instead it has introduced compostable materials for all takeaway items, including cups, straws and cutlery.
The team have also replaced all plastic drink bottles with glass, cans or cartons.
As part of its partnership with the Plastic Free Perthshire initiative, the Scottish Deli will offer discounts for people using reusable takeaway cups, and will offer free tap water refills.
It joins a host of local businesses already cutting down on plastic. These include the Birnam Arts Centre, the Corbenic café and the Birnam Reader bookshop café, which have all taken steps to reduce the use of plastic straws, takeaway cups and bottles.
The movement has been gathering pace across the UK since the issue of marine plastic pollution captured the hearts and minds of viewers of the BBC television programme Blue Planet 2.
The UK and Scottish governments have recently promised action on cotton buds, straws and bottles.
Simon Yearsley, who owns the Scottish Deli with wife Sarah, said: "We began looking at our plastic use last year and were shocked by how much we were using.
"Whilst we haven't been able to totally eliminate plastic, we have focused on reducing the plastic we give out to customers. We've made huge reductions and now have environmentally-friendly compostable alternatives in place for our customers.
"There's a huge public appetite for cutting back on plastic and we wanted to make it as easy as possible for people to do that in our deli."
Jamie Wylie, founder of Plastic Free Perthshire, added: "It was fantastic to hear about the steps that the Scottish Deli have taken to cut back on plastic. They've shown a real commitment to making it easy for customers to reduce their plastic use and have set a great standard for businesses across Scotland to aspire to.
"This is a great example of how reducing plastic use makes sense for both business and the environment."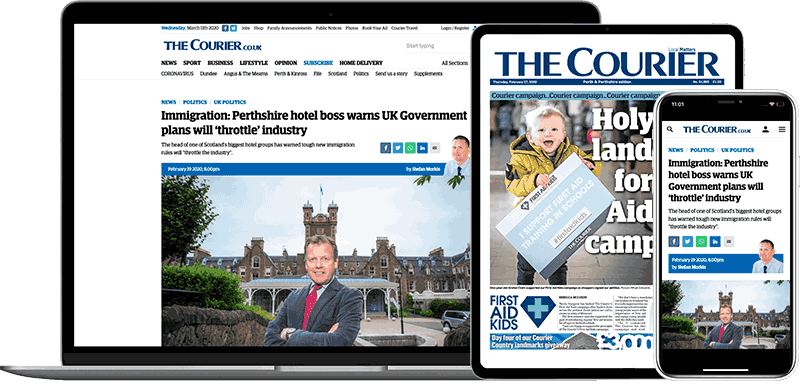 Help support quality local journalism … become a digital subscriber to The Courier
For as little as £5.99 a month you can access all of our content, including Premium articles.
Subscribe