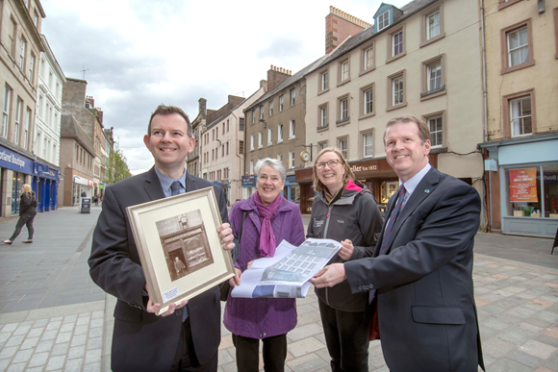 Leaders of Perth and Kinross's Heritage Trust are "delighted" with £750,000 invested in the cities' historic buildings, which could lead to jobs being created in the area.
The grants, given by Historic Environment Scotland (HES), will allow a number of old structures across the city to be renovated.
Previous funding in two schemes from 2012 by HES, led to the transformation of buildings such as an 18th century B-listed tenement on Perth's High Street. Overall the past projects have seen a total investment of £2.5million in the city.
The programme will also give opportunities for local people to get involved through a number of training and educational projects.
Sara Carruthers, development manager with the heritage trust in Perth and Kinross, explained how the project will work.
She said: "Through regeneration of structures, jobs will be created in construction as well as the opening of shops in areas that unused buildings once occupied.
"We haven't received the formal contract yet but once we do, the application process will begin and buildings can apply to us, which will run through to 2021.
"It doesn't have to be a historic building but we are looking for structures prior to 2019.
Chairman of the trust, Sue Hendry, said: "We look forward to grant assisting owners with conservation and repairs to their buildings and improving the city centre, the condition of people's homes and enhancing the economic vibrancy of the city."
A total of £8.6million will be given out across Scotland by HES, with Perth and Kinross receiving the same figure as Stirling and Dundee.
The highest amount will be given to Glasgow and Edinburgh who will have just over £2.5million distributed each, while Aberdeen will receive just over £900,000 and Inverness will see £250,000.
Chief executive of HES, Alex Paterson, spoke about the employment opportunities the project allows, after a recent trip to view previous projects in Perth.
He said: "We are seeing the positive impacts previous funding rounds have had on local communities, including the employment opportunities generated and stronger economies from successful commercial ventures.
"We want to ensure more of the money we spend is directed by communities themselves and by the individuals and organisations who know best how to tackle the issues affecting their communities and locals."
Cabinet Secretary for Culture, Tourism and External Affairs Fiona Hyslop said: "This is a fantastic opportunity for Scotland's cities to lead the way in improving our historic built environment and to encourage more proactive maintenance of our diverse buildings.
"I am confident that the funding will further benefit local communities and the wider economy, providing skilled work for our people."