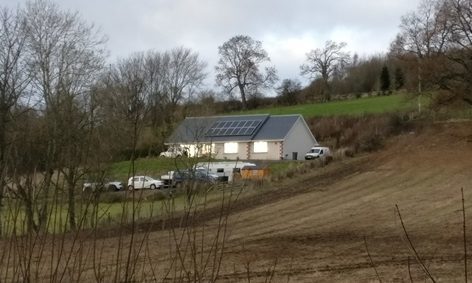 The Scottish Government has ordered an illegal house in rural Perthshire must be shut down.
Peter Brown and his family battled council enforcement action to remove them from their three-bedroom bungalow near Blairgowrie, after it emerged the previous owner had built it without planning consent.
George Burke had only acquired permission to erect a shed on the site, near Kinloch.
Mr Brown lodged an appeal against a Perth and Kinross Council enforcement order which demanded he stopped using the property as a house within 180 days or face prosecution.
Scottish Ministers have sided with the local authority, and said the house must be turned back into a shed.
In his findings, appeal reporter Stephen Hall said Mr Brown had lodged a planning application to turn the house into offices.
"The appellant argues that no enforcement action should be taken while these planning applications are under consideration, because such action has the effect of denying him the right to a fair hearing under Human Rights legislation," Mr Hall said.
"I cannot agree with this argument. Unauthorised development is not rendered immune from enforcement action by the submission of planning applications for alternative developments on, or uses for, the site."
He said that 180 days was sufficient time for Mr Brown to secure new accommodation.
Local councillors and residents had opposed the new house.
The SNP's Tom McEwan said the use of the building as an office would be "impossible to monitor" adding: "I feel it will still be used as a home and this last change is a desperate attempt to get around the planning process."
Mr Brown has declined to comment. In paperwork lodged with the council, agents said the 180-day countdown was not reasonable.
They asked for the period to begin only after the office plan had been dealt with to give the Browns more time to arrange new accommodation.