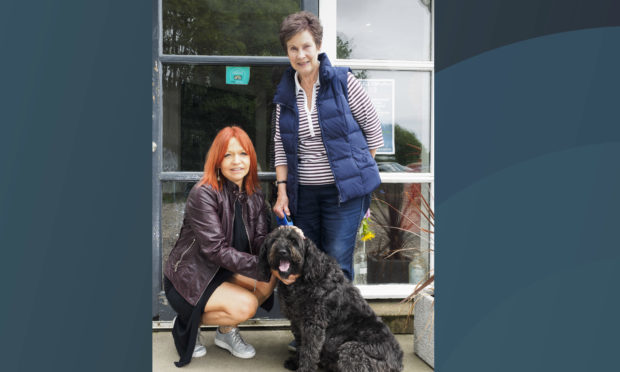 A community is rallying round to help save the life of a pensioner's beloved dog after he came within a whisker of being put to sleep.
Dusk, a seven-year-old labradoodle, suffers from severe hip dysplasia and was in so much pain his owner, Jess Moran, from Kinross, made the heart-breaking decision to have him put down.
However, Mrs Moran, a 73-year-old widow, could not go through with the procedure and cancelled the appointment. The pensioner lost her husband just six weeks after they got Dusk as a puppy and the dog has been her constant companion since then.
After deciding to keep Dusk a young vet suggested she try hydrotherapy.
"By that time Dusk couldn't even walk," said Mrs Moran.
"I had to get a neighbour to lift him into the car for his first appointment. But after just one session I saw a big difference in him and now I can't believe he's the same dog."
However, the cost of the hydrotherapy together with the powerful painkillers Dusk was prescribed was draining Mrs Moran's bank balance and she was concerned about how she could continue to afford his treatment.
While she and Dusk were enjoying one of their daily walks she started chatting to Julie McGrattan, owner of The Boathouse and the adjoining gift shop, Kooky Koo at Loch Leven.
Dog lover Julie had just lost her own beloved four-legged friend and was keen to help so she launched a fund-raising campaign that soon caught the imagination of customers, raising almost £300 within a few days.
"I am so grateful to Julie and everyone who has donated," Mrs Moran said.
"I can't believe people have been so kind.
"My husband died just six weeks after we got Dusk as a pup and he has been such a comfort to me ever since. He's constantly by my side and it would break my heart to lose him."
A table top sale in aid of Dusk will be held at noon on August 19 at The Boathouse. Spaces cost £10 and participants are asked to bring their own tables.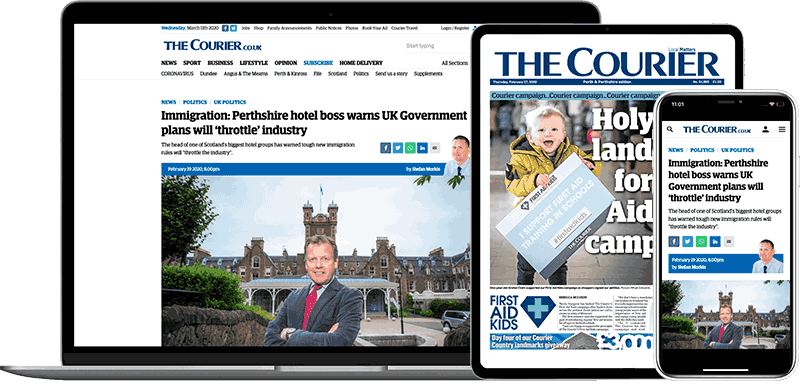 Help support quality local journalism … become a digital subscriber to The Courier
For as little as £5.99 a month you can access all of our content, including Premium articles.
Subscribe