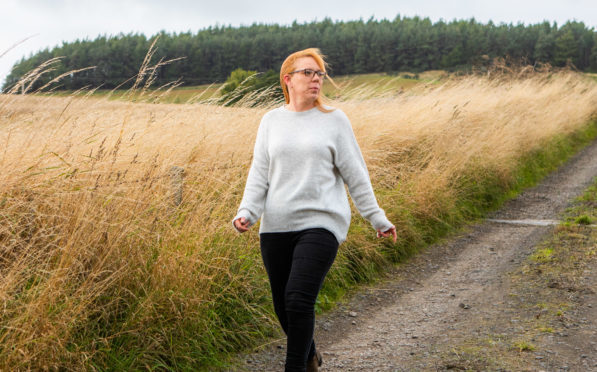 A mother is preparing for an epic hike to thank the hospital staff who saved her son from a life-threatening blood disorder.
In February, teenager Cody Rice was diagnosed with the flu, having spent weeks suffering from general aches, pains and fatigue.
When his condition worsened and his feet began to swell, he went back to his GP who sent him straight to hospital.
In less than 48 hours, he went into intensive care, diagnosed with bloodsteam infection septicaemia.
But things went from bad to worse and 18-year-old Cody's lungs started to collapse.
It was the first of several times that mum Alyson was told her son was going to die.
She said: "Doctors in Ninewells were holding conference calls with lung experts in Glasgow and Leicester. It was decided that his only slim hope of survival was to be transferred to Glasgow, where they could place him on a specialised life support system that would take over his lung function for him."
It was a particularly harrowing time for the family, as the country was left snowbound by the storms dubbed the Beast from the East. Mrs Rice, from Abernyte, Perthshire, said: "The bad weather delayed his transfer until the end of the week.
"We could only hope that he would survive long enough to get him to Glasgow. He was on a ventilator. I remember he looked extremely small wrapped up on the transfer trolley connected to all of the machines that were keeping him alive."
At the Golden Jubilee Hospital in Clydebank, Mrs Rice and her husband Rod were told there was a "very high chance" their son could die.
The next day, Cody had open heart surgery to remove an infection. "They also repaired the hole in his heart that he had since he was very young, which we had been told had closed," said Mrs Rice. "This was where they thought the infection had got into his heart."
Cody had a second operation to remove a large clot from behind his right long, as this was preventing the organ from inflating.
He was eventually transferred back to Ninewells and finally got home at the end of June, about six months after his ordeal began.
Mrs Rice said: "It is only through the care and dedication of the most amazing medical team at ICU2 at the Golden Jubilee that Cody is still with us today.
"The whole team, from consultants to surgeons, nurses, nursing assistants, physios, dietitians and even the cleaners went above and beyond to make sure Cody had the best chance of survival. Myself and my husband will forever be grateful."
Mrs Rice, 46, now plans to recreated Cody's journey by walking from Ninewells to Clydebank. The sponsored challenge will raise money for the hospital team and raise awareness of the often misdiagnosed Sepsis.
She aims to set off on October 12. A Facebook page has been set up to drum up support for her 80-mile challenge.