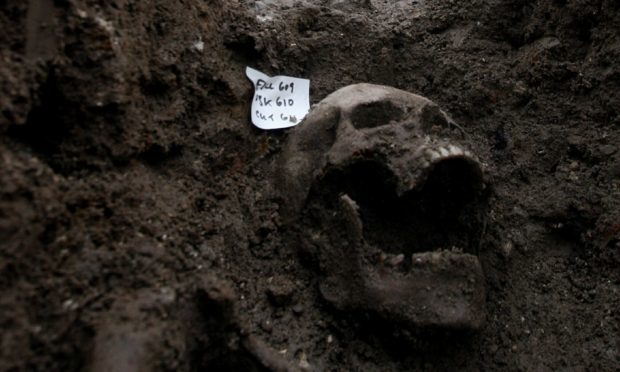 As work gets under way on the long-awaited St Paul's Church project that will transform the city skyline, we get a timely reminder that some of Perth's more striking features are actually under our feet.
Derek Hall, an independent archaeology consultant, this week revealed a medieval mystery at the site of the city's old Carmelite Friary.
Around 330 skeletons were found buried at the Whitefriars site during four years of excavations.
And historians now want to know why 30 of the men and woman were found buried alongside wooden staves.
Mr Hall, who will discuss the age-old riddle at a talk in the Perth Museum and Art Gallery next week, said there had been similar discoveries in Scandinavia, but this was a first for Scotland.
And this isn't the only subterranean secret in Perth that has had history buffs scratching their heads.
The search is still on for the body of James I of Scotland.
It has long been known than an elaborate tomb for the king was housed in the city's Charterhouse monastery, but the exact location has been lost in the midst of time.
Academics from across Scotland have joined forces to locate the lost tomb.
Last year, a medieval CSI was launched after traces of the old Blackfriars Dominican Friary – where James I was assassinated – was found in the bowels of Christie's Bar on Kinnoull Street, now renamed King James.
And earlier this month, the Perth and Kinross Heritage Trust led dozens of volunteers on a dig at the King's Hillfort at Dunkeld.
Historians are still trying to establish how old the fort is and what it was used for.
The Whitefriars site, now an unremarkable piece of wasteground, will eventually be turned into shops.
Work will only start once archaeologists have given the ground a final once-over, to make sure everything has been recorded and nothing has been missed.
Perth is in a transitional period with the redevelopment of several of its most important buildings. As the city transforms, its vital that we don't forget about the hidden history that forms its foundations.