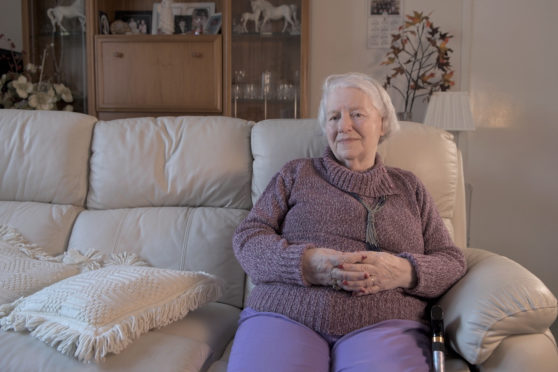 A stroke survivor is backing a campaign to raise £30,000 in 30 days to save a Perth support service which helps fellow survivors keep their independence.
Irene Smeaton, 84, from Letham, is part of a pilot project called Holistic Rehabilitation Support that sees stroke survivors get one to one support to adjust to home life and rebuild their confidence after a stroke.
With the year-long trial set to end on April 1 Irene has joined with Chest Heart & Stroke Scotland to raise £30,000 to make sure the pilot service continues and is also extended across Tayside.
Irene, a retired ward sister, suffered a stroke suddenly on March 14 2018.
She said: "I got up in the middle of the night to make a cup of coffee.
"The next thing I remember is my face bouncing off the kitchen door. I was on the kitchen floor alone and I couldn't move."
Her daughter Linda found her  in the kitchen, where she had been lying for hours.
The stroke took Irene's ability to read, left her struggling to write and count and unable to walk.
Since the stroke she has been fighting to get back here skills and independence.
Irene said: "I like being independent.
"That's the hardest thing about my recovery – trying to get that independence back."
Irene's life changed when she met Hazel Staniforth who delivers Chest Heart & Stroke Scotland's pilot support service at Perth's Royal Infirmary.
She said: "Hazel has been fabulous.
"She has helped me to walk outside again and push myself.  Thanks to her I'm getting my confidence back.
"She has taken me to cafes in Perth and places like Dobbies.  She introduced me to two stroke clubs and I'm meeting folk from all over.
"My granddaughters say I now have more of a social life than they do. With Hazel's help, I walked to the bus stop.
"My next goal is to get on that bus and feel independent again. I don't know how I will do that without help from people like Hazel."
The pilot project has helped 32 stroke survivors since it began in April 2018 and Chest Heart & Stroke Scotland want to raise £30,000 to save the service and see it extended across Tayside.
Jane-Claire Judson, Chest Heart & Stroke Scotland's Chief Executive, said: "This incredible pilot project is helping people live life to the full.
"But we desperately need funds to keep it going and help more people across Tayside.
"Anything you can donate or raise can make the difference.  With your help there will be no life half lived in Tayside.
"Hold a bake sale, a casual clothes day, join a bucket collection, skip buying a coffee one morning and donate whatever you can."
To donate visit www.chss.org.uk/tayside