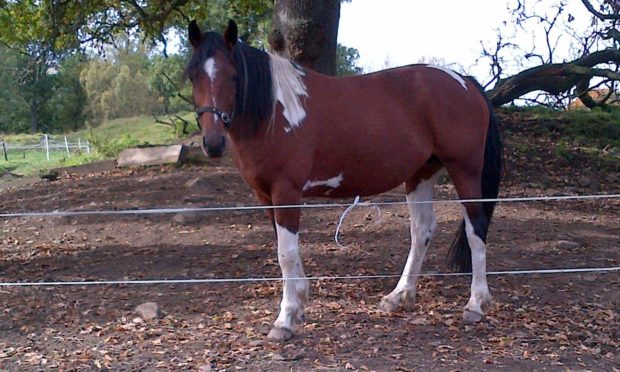 An animal welfare worker has said her faith in the Scottish SPCA is in tatters after the charity's decision not to pursue a Perthshire "horse whisperer" who was investigated over neglect allegations.
Gill Harkin, from Ladybank, stood down from her voluntary post at the British Horse Society to launch a stinging attack on the handling of the case.
It comes after 22 horses and two dogs were removed from a Fife farm when their owner Anne MacGregor signed them over to the Scottish SPCA.
Four of the horses were either destroyed before being moved or shortly afterwards owing to their poor condition and age.
Ms MacGregor, who had marketed herself online as a "holistic horse whisperer", was accused of failing to adequately care for the animals.
She later published a statement on social media saying she had been suffering from ill health and insisted "all efforts were made to ensure the herd were fed and watered on a daily basis."
Scottish SPCA inspectors have legal powers to investigate and prosecute in cases of alleged animal abuse and cruelty.
Ms Harkin was the British Horse Society welfare officer for Fife and Kinross when the Sottish SPCA removed the animals in January and had first-hand knowledge of them during the period they were stabled in Fife.
She has now written to the Scottish SPCA's chief executive in a personal capacity highlighting further concerns.
She wrote: "Any faith I had in your organisation is in tatters – I see your adverts on Facebook with pictures of emaciated and helpless dogs and cats.  What about the big beasts who are just as helpless and at the mercy of unscrupulous owners?"
Ms Harkin said she had taken the action to underline her concern at the handling of the probe.
"There are not many people willing to put their heads above the parapet but I see no reason why they [The SSPCA] cannot prosecute," she said.
Scottish SPCA chief superintendent Mike Flynn defended the charity's handling of the case.
He said: "We took the decision not to progress due to a lack of corroborating veterinary evidence, which left little to no chance of successfully reporting for prosecution."
A British Horse Society spokesperson said: "The BHS is absolutely committed to equine welfare but does have to operate within the law.
"In many cases there are complicating circumstances which cannot be made public, this in turn can lead to frustration from the public, but it is imperative confidential details are not released.
"The BHS works with many welfare charities, including SSPCA, who are all equally committed to equine welfare."