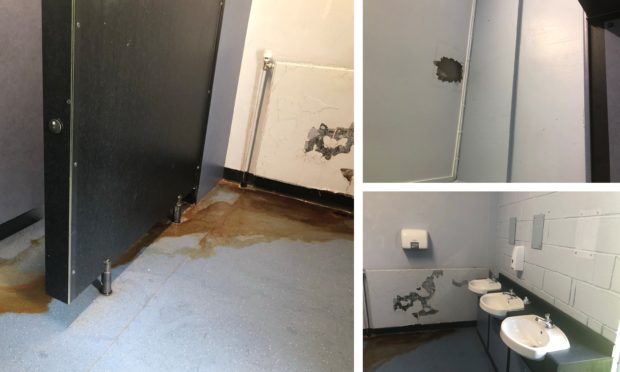 Toilets at a Perth secondary school have been branded "disgusting" by a student, who claims a rat was seen emerging from a hole in the ceiling.
The pupil said the Perth Grammar School lavatories often had no soap or toilet roll for youngsters and called for inspectors to investigate the conditions as a matter of urgency.
Perth and Kinross Council has revealed it plans to refurbish the facilities, but insisted it had received no reports of rats on site.
The student, who asked to remain anonymous, said: "Our school toilets in Perth Grammar School are actually disgusting.
"There is no soap or toilet paper.
"I saw a rat the other day from a big hole in the ceiling.
"This particular toilet that I saw the rat in is right next to the canteen which makes me wonder if there's rats there too.
"This school should be inspected immediately."
Photos of the toilets show large brown stains on the floor caused by water damage, holes in the wall and paint peeling from a radiator.
Local SNP councillor Eric Drysdale said he would be pressing for repairs to be carried out as soon as possible.
Mr Drysdale said: "The photos shown to me by The Courier do seem to show a significant leakage from a radiator in the toilets, which I would have thought would be a relatively straightforward repair job.
"I am aware that there is a planned maintenance programme for the Grammar and I am confident that will be progressed during the summer holidays but in the meantime I shall certainly be asking for this radiator to be repaired ASAP and the residue from the leak properly cleaned."
Perth and Kinross Council said the toilets were in line for a revamp and that a review will be carried out to address the supply of soap and toilet roll.
A council spokesperson said: "Perth and Kinross Council can confirm the toilet facilities at Perth Grammar School will be refurbished.
"In the meantime, a council maintenance team is repairing the radiator in the toilets and the area will be deep cleaned following the repairs as is normal.
"The school is currently reviewing daytime cleaning priorities and this should address any issues with school toilet consumables.
"The council can confirm it has not received any notification of rats in the school buildings."