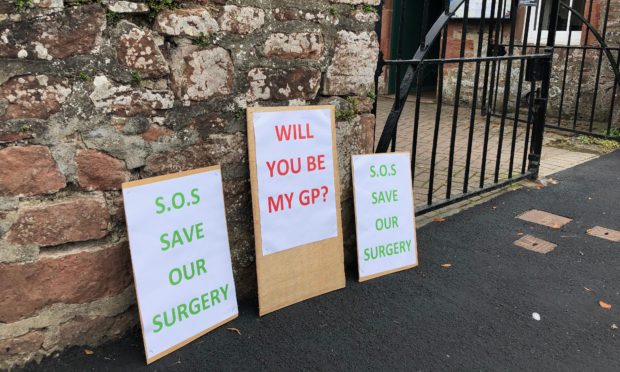 A week after news leaked on social media that Bridge of Earn's GP practice is set to close after losing both its doctors, 3,500 registered patients are still waiting to be told formally of the changes by NHS Tayside.
Health bosses have insisted they are taking immediate action to ensue care is not disrupted.
However, community leaders say the uncertainty is causing anxiety among locals and are calling on the health board to provide clarity to villagers.
Almond and Earn SNP councillor Henry Anderson said: "Whether people think social media is good or bad, that isn't how the news should have broken. There have still been no letters sent out.
"None of the councillors or community councillors can hand on heart say we know what's going to happen.
"This affects the whole community."
The situation emerged last Thursday when Earn Community Council treasurer Paul Vallot announced on Facebook that the two GPs who serve the village had only a month left of their notice period.
Mr Vallot posted a letter from the primary care service's associate medical director which confirmed the impending changes.
The community council organised a public meeting at Dunbarney Parish Church the following day, which was attended by more than 100 residents.
Perth and Kinross Health and Social Care Partnership's Integration Joint Board (IJB) chief officer Gordon Paterson was unable to attend but promised in a letter to the community that "full GP services" would be available throughout August and September to people in the village.
Concerns about the ability to attract replacement GPs to the existing medical practice have been raised by residents and politicians.
The converted Main Street house has been labelled inadequate, however a £1 million budget has been ring-fenced to fund the project.
Councillors and community council members say they are still waiting to hear the outcome of the last meeting on progressing the plans, which took place in June.
A spokesperson for NHS Tayside said: "We are committed to working with the patients and staff at Bridge of Earn Medical Practice and we will keep them and the local elected members and community council fully informed of any changes to the way primary care services will be delivered.
"NHS Tayside is taking immediate steps to secure alternative primary medical services for this population. The local community should be assured that every effort is being made to ensure patient services are not disrupted.
"A strategic assessment is being considered by NHS Tayside's asset management group. The precise level of investment will become clear once the business case, which is being developed between NHS Tayside and Perth and Kinross Health and Social Care Partnership, is finalised."