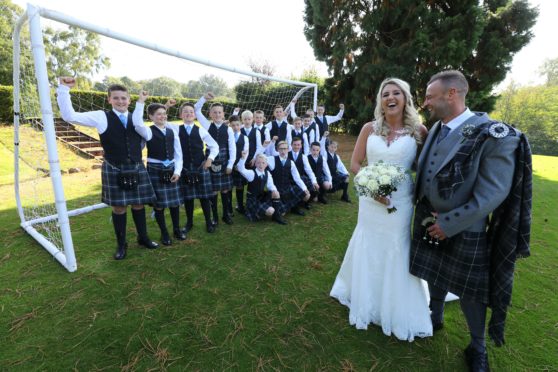 A football-mad couple who coach the same under-13s team in Perth have found the ultimate relationship goal after tying the knot with the support of their entire squad.
Callum Kay and Danielle Millar kicked-off married life together with a ceremony at Murrayshall Hotel in Scone on Saturday as the Fair City FC 2007's team cheered them on from the sidelines.
Callum, from Newburgh, and Danielle, from Perth, met just over three years ago when they both became coaches of the football team and realised they were a perfect match.
Danielle said: "Callum took over Fair City under-13s three or four years ago and I noticed that they were advertising for a coach and I had just finished playing football so I joined."
The bride admitted that the beautiful game is a constant feature in their relationship and, of course, they managed to include it, and their football team, in the big celebrations.
She said: "Everything is football. It's constantly football, planning football all the time.
"We've got a beat the goalie for the wedding, so our goalie has done a few hours of that."
The pair could have met earlier, as both are ex-Jeanfield Swifts players, but it was not until Fair City FC that the couple's relationship hit fever pitch.
Danielle said: "I played for Jeanfield Ladies for about eight years or something like that, before that I was with St Johnstone Ladies.
"Callum was with Jeanfield too but we were there at different times. I left and he joined."
Fair City FC were full of praise for their coaching couple and highlighted their dedication to the team despite neither having a child at the club.
A Fair City Junior FC spokesperson said: "Callum and Danielle are two amazing coaches and a lot more than that to our group of young players.
"Despite neither having a kid at the club, they dedicate almost of their free time to coach our kids for the love of the game.
"The whole squad is invited to their big day and if it's possible, they're even more excited than they are for a match."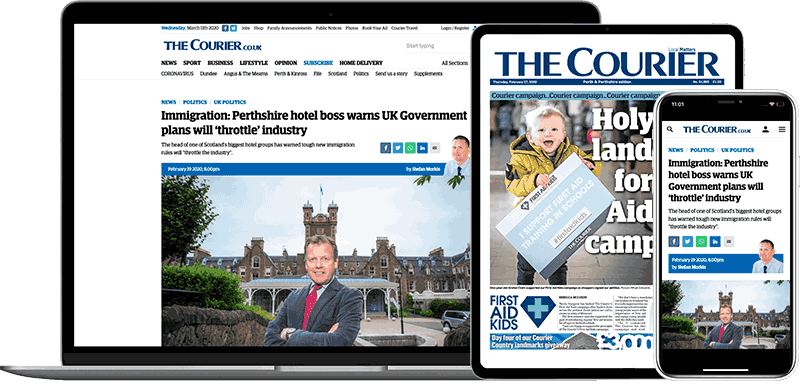 Help support quality local journalism … become a digital subscriber to The Courier
For as little as £5.99 a month you can access all of our content, including Premium articles.
Subscribe