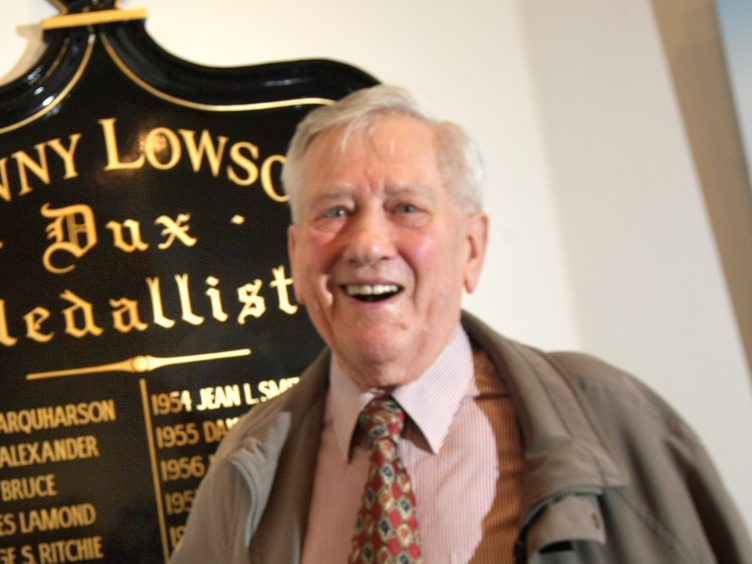 Former Forfar Academy assistant rector George Peters, who was also honorary president of the town's Strathmore Cricket Club, has died at the age of 92.
Forfar-born Mr Peters gave a lifetime of dedication to the cricket club as both a player and official and remained a hugely popular and highly respected figure to generations of locals whose education he oversaw across four decades at the town secondary.
He attended the Academy as a pupil and, following National Service and studies at St Andrews University, returned there as a form teacher on April 1 1953.
For almost 30 years, the boys in the class of '53 have continued to meet for regular reunions at which Mr Peters made the traditional roll call of pupils.
Their latest gathering took place at the Strathmore Arms in Glamis in late 2019 , marking the 65th anniversary of Mr Peters starting his Academy career.
Alongside his main subject of geography, he also taught history, English and religious education, with only a short spell at the then Webster's Seminary in Kirriemuir breaking up his career-long association with the Forfar school, from which he retired as assistant rector.
An avid sports enthusiast, cricket and Strathie were his main passions and he played for the Lochside club's 1st XI in the 1950s before becoming captain of the 2nd XI.
He served on the Strathie committee for five years until 1971 and became club vice-president in 1972, followed by his first three-year stint as president.
A highlight of that period was the club's capture of the Rothman Quaich Scottish knockout cup.
Mr Peters also played a pivotal role in the re-build of Strathie's clubhouse after it was gutted by an early morning blaze, and following a break from management duties returned for a second spell as president.
Following its conclusion in 1992, his dedication to the outfit was recognised when he received the newly-created role of honorary president.
He also served as president of the Counties board and, in 1991, was the club's figurehead when the Forfar ground hosted its first Benson and Hedges tie between Lancashire and Scotland.
Predeceased by his wife, Isobel, Mr Peters is survived by his daughter Kay and son Glenn.