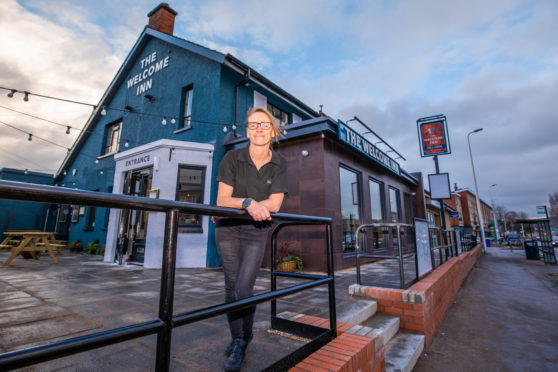 A Fair City pub has reopened after a £500,000 investment from a major European brewery.
The Welcome Inn in Perth's Letham neighbourhood shut in August for the much needed revamp.
After it was bought over by Dutch beer giant Heineken last year, the pub had a major structural overhaul this autumn, bankrolled by the Amsterdam-based brewers.
The Welcome Inn is the local for around 7,000 houses in Letham, parts of Oakbank  and the Western Edge
On Tuesday, Perth landlord Debbie Little pulled the first pints as the Rannoch Road pub reopened to the public.
The refurbished premises has been completed with inside and outside seating, a kitchen, new toilets and fresh exterior facade.
Perth native Debbie, who spent the last year and a half running The Tavern in the city centre, has taken the helm as part of the "Just Add Talent" scheme.
This allowed Heineken's subsidiary firm Star Pubs and Bars to minimise the up-front cost of taking on the premises.
Star own the building and pay the overheads, leaving Debbie to handle the day-to-day running of the pub – a setup the company say helps them recruit the best calibre of management.
Debbie said: "We closed in August and completely ripped out everything.
"Now there is a lot more light with more windows. We've got plans for live music most weekends too, the beer garden is nearly finished and it will be a space for families too.
"The pub has been here for a long time but it's not been run properly lately. I've been speaking to some people who have lived locally all their lives and popped in to see us. Some hadn't been in for 50 years."
"This is the second Just Add Talent site in Scotland, after The Rumblingwell in Dunfermline. The scheme drops the start up costs."
Around 11 jobs have been created at the newly launched pub restaurant, with plenty going to Letham residents.
The premises has also been granted a new license by Perth and Kinross Council, allowing it to operate until midnight on Thursdays, Fridays and Saturdays and until 11pm every other night.