Revellers were "millimetres" from death when the roof of a popular Perth pub collapsed, sending chunks of masonry onto the pavement below.
Three people were hurt and more than 80 were evacuated from The Venue on St John's Street after a chimney breast from a neighbouring building fell onto the roof.
Owner Frank Burgerseed said it was a stroke of luck that the incident happened early in the evening and during bad weather, meaning there were no smokers standing where the debris landed.
Video of the aftermath of the incident is above this article
Eighty evacuated from popular Perth venue as roof collapses during Storm Ciara
Mr Burgerseed, who had left the building moments before disaster struck on Saturday evening, said: "It missed people by millimetres.
"Two people nearly lost their lives but it missed them.
"They were standing outside having a smoke but because of the weather they were inside the doorway.
"If had been 15 minutes later then our door staff would have been standing there and if had been a couple of hours later then hundreds of people could have been inside.
"All in all everyone has been very lucky.
"The chimney breast has been blown down onto our roof caused the damage.
"In the daylight we can see just how serious this unfortunate event actually is, we feel very lucky and thankful knowing there was no serious injuries."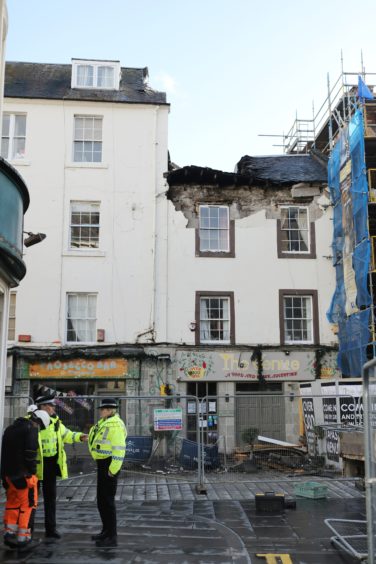 Mr Burgerseed said he had not been able to access the building since the incident as engineers were still working to make it safe.
Staff at The Venue have thanked the emergency services including the Scottish Fire and Rescue Service, police and ambulance crews who helped deal with the aftermath.
Parts of St John's Street remained closed off yesterday, as engineers continue to work on the site. There was no through walkway between High Street and South Street.
A full safety inspection of the site is expected to be carried out in the coming days.
Emergency services remained on the scene for hours on Saturday night as they tried to contain the site and make it secure.
Gas and electrical engineers braved the high winds and torrential rain, getting to work as Storm Ciara moved in.
Late night pub-goers also continued to arrive at The Venue hours after the incident only to find their way blocked by police tape.
A spokesperson for the Scottish Fire and Rescue Service said: "We were alerted at 7.25pm on Saturday February 8 to reports of a structural collapse on St John Street, Perth.
"Operations Control mobilised two appliances and a height vehicle to the scene, where the chimney of a tenement building had collapsed.
"Three casualties were handed into the care of the Scottish Ambulance Service. "
A Police Scotland spokesperson said: "There's no one seriously injured.
"There were approximately 80 people in The Venue that have been evacuated safely."
The condition of the three people who were injured is not known.