VIDEO: Isla, 11, who is supported by Rachel House, helps design cycling jersey logo for CHAS
By
Anita Diouri
March 7 2020, 8.49am
Updated: March 9 2020, 2.05pm
A family receiving support from Rachel House in Kinross have designed a special garment in aid of Children's Hospices Across Scotland (CHAS).
Marion and Iain Riddell of Muckhart, whose daughter Isla, 11, has cerebral palsy, have created a logo for a cycling jersey to mark 10 years of a sporting event that raises funds for the charity.
The project is the result of a collaboration with the Sportive Kinross cycling competition and Kinross High School.
Sportive organisers will be selling the jerseys ahead of this year's event to raise funds for CHAS.
Mrs Riddell said Isla had been involved with Rachel House for around seven years and the organisation had made all the difference to her family.
She said: "Having Rachel House in our lives can help make the day to day that bit easier.
"We've been coming to Rachel House since Isla was four years old, when she became more unwell. They've been very supportive over the years and we've had some lovely stays there."
Mrs Riddell is a member of Kinross Cycling Club, which organises the Sportive and has raised more then £75,000 for CHAS over the past 10 years.
She and Isla took part in a crafts session with activities staff at Rachel House and came up with a logo for the jersey, which was then given to the craft, design and technology department at Kinross High School.
Third year design student Rory Maddocks, a keen cyclist himself, took the Riddells' graphics and transformed them into the jerseys which will be on sale for £35 a time.
Video on this story is above this article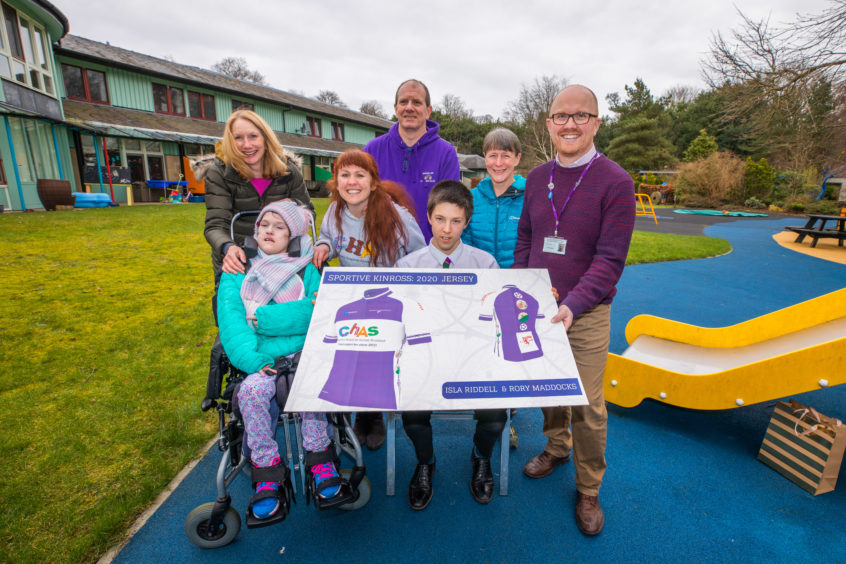 Mrs Riddell volunteered at last year's event and is hoping to go a step further, with the support of CHAS, at this year's gathering on April 25.
"I'm hoping to get on the bike for it this year, so I'm really looking forward to that," she said.
"Meanwhile Isla can come to Rachel House, where we know she will be looked after."
Community Fundraiser at CHAS, Lyndsay Stobie said: "We owe Sportive Kinross a debt of gratitude for everything they've done and continue to do to raise money for CHAS.
"This jersey is a lovely symbol of our 10-year association and a gesture that means all the more with Isla, Marion and Kinross High School's involvement.
"The Sportive itself is always a lively occasion for our volunteers to get involved in, helping out with registration, manning the feeding stations and cheering the cyclists over the finish line."
The jersey will be for sale at £35 from 9am on March 7 until 7pm on March 18.
Anyone interested in purchasing the commemorative jersey or singing up to any of the Sportive's three distances can do so on the Sportive Kinross website