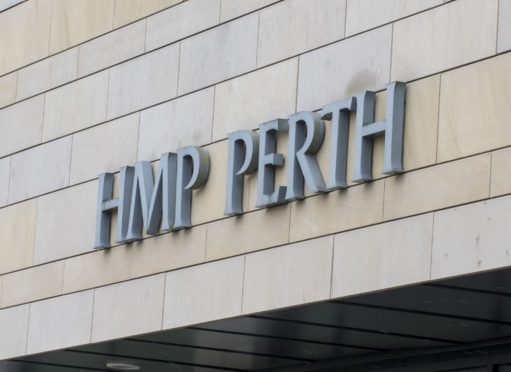 Staff are tackling a coronavirus outbreak at Perth Prison.
An inmate has tested positive for the virus, a source close to the 700-capacity jail confirmed on Tuesday.
Staff have also been signed off after showing symptoms. HMP Perth is one of three Scottish jails to have confirmed cases of Covid-19.
The Scottish Prison Service said around 30 people with suspected cases who are self-isolating throughout the estate.
Following the death of sex offender John Angus, 66, at HMP Edinburgh last week, a SPS spokesman confirmed that a second prisoner is believed to have died from Covid-19.
Convicted killer Francis McCarthy, 59, was an inmate at HMP Low Moss, near Gasgow. He was admitted to hospital after showing symptoms. It is understood he had significant underlying health conditions.
Last year, health bosses called for a ban on new inmates at Perth after chronic overcrowding problems sparked safety concerns.
Problems prompted bosses to increase capacity at the jail from 630 to around 700, with many inmates forced to share cells.
SPS spokesman Tom Fox said the Scotland-wide population was now at its lowest since March 2018, which is helping with social distancing.
He told BBC Good Morning Scotland: "We're currently sitting with 7,339 people in custody – to put that in context, that's 821 less than the same week last year, so the population has come down.
"That's probably due to the court business being interrupted and a variety of other factors, but it's actually helped us maintain a greater degree of social isolation in prison than would have been possible had that not been the case.
"The population has been declining since the lockdown started and that's obviously helped because we're trying to maintain the same levels of social distancing and isolation as people are being asked to maintain in the community.
"It's a challenge but it's been made possible both through the hard work of prison staff and NHS staff and the co-operation of people in custody who are co-operating with staff."
He said that around 30 people across the estate are currently self isolating, while staff absence levels are currently at around 20%.
Mr Fox added: "We've had two confirmed cases of Covid as I speak, but the numbers actually self-isolating are relatively small, and I think that's due to the preventative measures that people have been taking right since the beginning of this lockdown."
The Prison Officers' Association Scotland said the low staff levels were putting a major strain on operations.
Chairman Phil Fairlie said: "Staffing levels have been dramatically reduced. Large numbers of staff are self-isolating. We have an enormous number of staff who are not available to attend the prison on a day-to-day basis.
"It is having a significant impact in terms of what we are able to do."
The three affected jails doesn't include HMP Kilmarnock, where two cases of Covid-19 were confirmed in March.