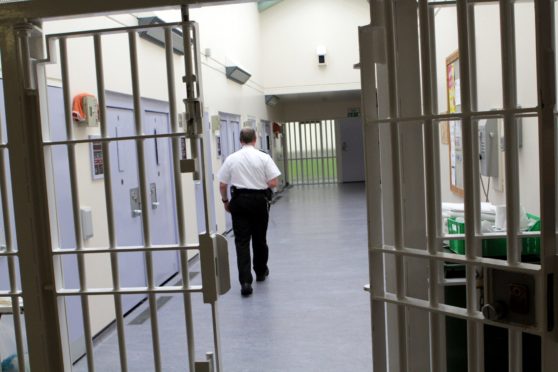 Hundreds of inmates will be released early from Scotland's prisons in an effort to ease pressure on overstretched staff.
Justice Secretary Humza Yousaf confirmed up to 450 short-term prisoners could be freed within weeks as jails struggle to cope with the coronavirus pandemic.
But the MSP pledged that domestic abusers, sex offenders and terrorists will stay locked up.
The move comes just days after the Scottish Prison Service announced staff absences were at about 20%, with many employees forced into self-isolation.
An outbreak at Perth Prison was confirmed last week, with several staff sent home after showing symptoms.
Mr Yousaf has also laid out plans to give mobile phones to inmates so they can keep in touch with families.
The Courier understands phones could soon be distributed to the entire population of more than 7,200 prisoners, with the first consignment already in transit.
However, jail bosses have been told to monitor phone use closely. The devices will not have cameras, or access to internet. They won't even be able to send text messages.
Inmates who are nearing the end of their sentence will be considered for early release. The scheme, to be laid out before parliament, will be limited to those sentenced to 18 months or less and who on April 30 have 90 days or less left to serve.
Prisoners will be released without the need for further supervision, and it will be possible to veto the early release of some who pose an immediate risk to specific individuals or groups.
Mr Yousaf confirmed 89 people in prisons across Scotland had been isolated.
He said: "Using these emergency release powers, combined with increasing those on Home Detention Curfew (electronic monitoring), will substantially increase the availability of single-cell accommodation across the prison estate, which in turn will help the prison service contain the spread of coronavirus in our prisons.
"In addition, the resulting reduction in the prison population will allow the prison service to ease restrictions put on prisoners during these challenging times."
He said: "We must help staff to manage prisons in a sustainable way over the weeks and months ahead. This latest step – based on the emergency powers passed by MSPs earlier this month – will give them greater capacity to help ensure a safe custodial environment."
Mr Yousaf added: "This is not a decision that I have taken lightly, and I want to assure the victims of crime that this does not diminish what they have suffered.
"In these exceptional circumstances, I must consider actions that best reduce the prospect of further harm both in prisons and the wider community of which they are part."
A Scottish Prison Service spokesman said hundreds of prisoners had been informed they were eligible for early release, but that wasn't a guarantee they would be back with their families any time soon.
"The technicalities are still being worked out," he said.
Scottish Liberal Democrat justice spokesman Liam McArthur said: "Making decisions like these, in the context of a pandemic, is an unenviable position to be in.
"It's all the more difficult because of where we started. Scotland's prisons were in crisis before Covid-19."
He added: "We can't just shift that burden to other under pressure services like GPs and housing so there needs to be a proper support package accompanying emergency release.
"This is important to avoid reoffending and protect the rights of victims."