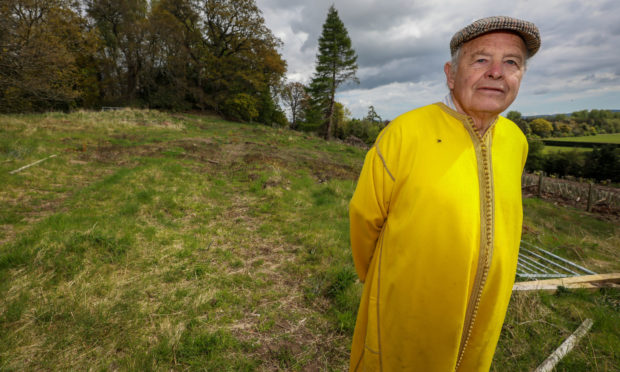 The owner of an historic Perthshire castle has unveiled plans to transform part of his estate into a large cemetery.
Andrew Threipland wants to create more than 1,000 burial plots in woodland beside his home at Fingask Castle.
There are also plans for a semi-underground, candle-lit chamber in which relatives can deposit the ashes of their loved ones.
If approved, it would be a rare example of a modern day barrow, similar to the round burial sites that were common in parts of Europe about 12,000 years ago.
Mr Threipland has flagged up the project to Perth and Kinross Council, which is trying to address a critical shortage of graves across the region.
"Many cemeteries are gloomy and institutional and not attractive," said Mr Threipland, whose family's connections to Fingask date back to the 17th century. "There is growing demand for burial sites and sites for interred ashes in natural settings.
"This site will provide a beautiful location on the edge of the designed landscape, and in the scenic rolling hills above the Carse of Gowrie."
The earmarked land is known as Witches Knowe, which has space for 1,020 plots and there will be no above-ground monuments.
Family members will, however, be welcome to leave small concrete slabs with brass plaques to mark the lairs.
Mr Threipland said he has brought his plan to the attention of the local authority. "I have let the powers-that-be know there is a site in their area which has been subject to all necessary topographical, ecological and geological investigation to fit in with SEPA guidelines as a burial site."
Last year it emerged the council's 17 graveyards were expected to reach capacity within five to 10 years' time.
Mr Threipland said he became interested in burrows at an early age, while helping his archaeologist mother survey historic sites across Britain and Europe.
"Many of mankind's greatest achievements, such as the pyramids of Egypt, have been structures to commemorate the dead.
"In my view, few people want to commemorate themselves but they want to commemorate their parents and other loved ones. There is little opportunity to do so in the modern world."
He said: "I thought it might be popular to build a 21st century barrow, with locked chambers in the walls in which people could deposit the ashes of their loved ones, and where they could remember the dead with singing or readings in a spiritual space."
He said he was inspired by a similar modern barrow near Cambridge.
"I thought we could use a particularly pretty field here in Rait both to hold a modern barrow, and to have woodland burials where the bodies would be allowed to decay in the natural way.
"I intend to continue to use the field to graze sheep.  Bodies may be allowed to decay in peace where sheep do safely graze."
His application for planning consent is now being considered by council officers.