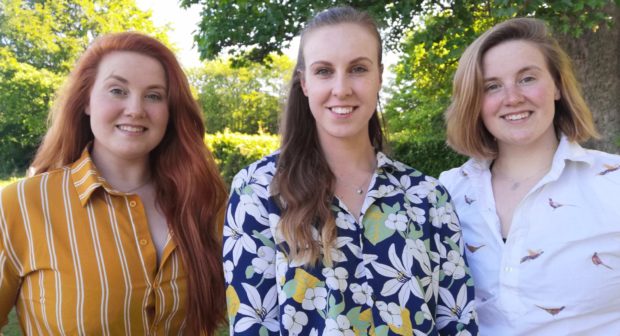 A trio of Perthshire sisters have begun raising funds to hold a local socially distanced drive-in theatre show.
Rohanne Compson-Bradford, 27, and 24-year-old twins Victoria and Harriet Compson-Bradford, from Kinrossie, near Scone, have launched a fundraising page before the ticket release of their show, Revival.
The sisters founded theatre company, Rosie Glow Productions, which aims to host its first showing of Revival on August 15.
The show will include performances from comedians, vocalists, magicians and dancers, with audience members watching it from their cars.
The exact location is yet to be confirmed.
Victoria said: "Rosie Glow are passionate about giving back to their community.
"Suppliers of the event are local Scottish businesses, and their team of performers are those whose careers have been hit by the pandemic.
"Revival allows the Scottish public to enjoy an evening of entertainment whilst adhering to the government's social distancing guidelines."
Cars would remain two metres apart, and there would be no interval, to reduce the number of people being out of their cars at the same time.
The show will be set up in such a way that only a few performers will be onstage at any given time, and it will be choreographed to allow for social distancing to take place.
Rosie Glow was set up in the early stages of lockdown, after the pandemic ground the sisters' careers to a halt.
Rohanne has been on stage since she was 12 years old, and went on to perform on cruise ships across the world.
Victoria performs across the UK, having gained her undergraduate degree at East 15 Acting School.
Harriet, whose background is in biomedical science, is now an entrepreneur.
The sisters decided to combine their industry skills to bring performance back to Perthshire.
Victoria said: "Our world has been turned upside down during the lockdown.
"All of our shows have had to be postponed and it feels like our careers are on pause.
"But there are other ways to enjoy live entertainment, and the UK is way behind.
"Drive-in theatres are thriving in the Scandinavian countries, so why can't it be done here?
"We hope Revival will show that theatre is not dying, we just have to find new ways to access it."
Donations to the fundraiser can be made on the Revival Crowdfunding page.