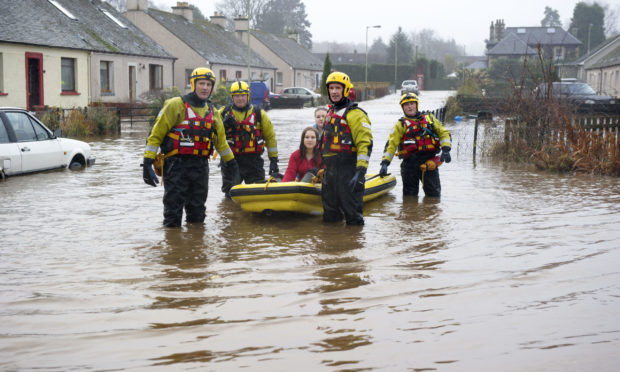 A vital multi-million pound flood defence in a Perthshire village is a step closer to being built.
Councillors have signed off on proposals for the Comrie flood protection after lengthy consultations with residents.
The Strathearn village has been tormented by flooding from the trio of watercourses which dissect the tourist hotspot.
The Water of Ruchill, the River Earn and the River Lednock have a history of surging into the village, leaving trails of destruction in their wake in 2012 and 2015.
Councillors want work to get under way as early as 2022 on the £24m construction project, which could take a year and a half to complete.
The blueprints which were passed unanimously by elected members on Wednesday include public utility diversions, measures to protect against riverbank erosion and landscaping, built across land belonging to more than 50 different parties.
However, after a string of public exhibitions and meetings with villagers, two objections remain lodged against the plans.
One complaint is in relation to part of the scheme being built in a resident's garden, while the other seeks further general consultation.
The scheme will now be referred to either Scottish Government Ministers, which can set a public local enquiry, or the council, to hold a local authority hearing.
Should plans be signed off at this stage, detailed designs can be drawn up and council officers will begin procurement work.
Strathearn councillor Roz McCall described the flood defence as "wanted, needed and essential."
She said: "The unique confluence of the watercourses in Comrie has seen cascades of water ruin belongings, homes and history.
"If the water fall hits with increased rain as a result of global warming, Comrie could go from being one of the most stunning and picturesque towns in the world to underwater chaos. This would affect over 200 properties and many more lives."