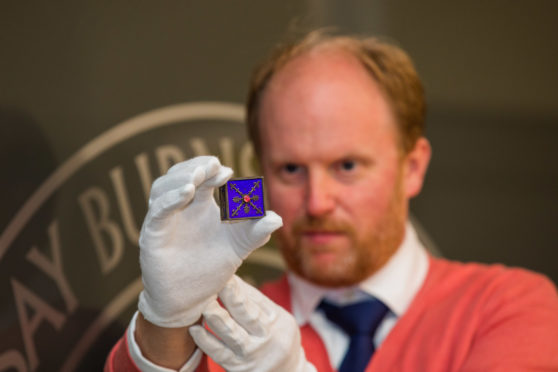 A tiny jewellery box by world famous designer Peter Carl Faberge is among the treasures on offer at a Tayside auction house's post-lockdown sale.
The rare Russian-made artefact dates back the turn of the 20th century and is expected to fetch up to £2,000 when it goes under the hammer next month.
Staff at Lindsay Burns Auction House in Perth discovered the silver enamel trinket during a house clearance in a property in St Andrews before lockdown.
In the same attic, they found a black terracotta jug from late 19th century Athens.
The Fair City salehouse is getting ready to reopen with a host of new safety features, including a one-way walking route, more screening and dedicated entrance and exit points.
Auctioneer Nick Burns said: "We have been very busy these past few weeks getting everything ready for reopening.
"We were doing house clearances right up until the start of lockdown. The Faberge box was one of the most impressive finds we came across at a house in St Andrews and we expect it will generate a lot of interest."
He said: "Faberge is one of the best known silversmiths in the world and this box is a really great example of his work."
Faberge is best known for his Easter Egg-inspired creations that can fetch for astronomically high prices at auction. One egg from 1913 famously went for more than $9 million at a US sale in 2002.
The tiny silver and blue enamel and topaz squared box, valued at between £1,000 and £2,000, is thought to have been made in Moscow circa 1896-1908.
Both the box and the jug, known as an Alabastron, were due to be auctioned at Lindsay Burns' cancelled antiques and fine arts sale in April.
The auction will now take place at the beginning of August.
The first post-lockdown sale will be held on July 16 and 17 with a mix of antiques, collectables and general pieces.
Both sales will be moved online with a live bidding platform.
Another item that will be offered for sale is a cherished number plate SSR 1, which could fetch as much as £30,000.