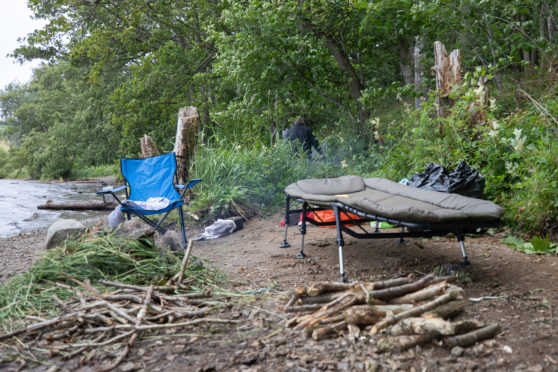 Beauty spots across Tayside and Fife are being over-run by wild campers, prompting fears for public safety.
Scores of tents and motor homes appeared at sites around the area, including the historic Lady's Tower landmark on the Fife coast.
Visitors also once again flocked to Clunie Loch, near Blairgowrie, one of several hotspots being targeted as part of a new crackdown on so-called dirty campers.
The campaign, which launched this weekend, is part of a team-up between Perth and Kinross Council, police and fire chiefs to stamp out anti-social behaviour and keep surrounding roads congestion-free.
It follows weeks of complaints about queues of cars causing problems around the site, prompting fears that emergency vehicles could be blocked by parked motors.
In Fife, concerns were raised about the amount of overnight visitors at Ruby Bay, Elie, with several tents placed haphazardly around the 18th century Lady's Tower.
Local independent councillor Linda Holt said: "I am delighted that visitors have returned to the glorious Neuk and businesses have done their utmost to give them a warm but safe welcome back.
"So it is doubly disappointing that Ruby Bay has been inundated with unsustainable numbers of irresponsible campers and campervans."
She said: "It is a place for a few campervans or wild campers to stop off – it is not a free mass campsite.
"If you are thinking of overnighting at Ruby Bay because it's a beautiful spot, please keep it that way by finding a licensed camp site or caravan park instead."
Local woman Kirsty Barclay was one of several people concerned about the numbers involved.
"I'm sure most people don't normally have a problem with anyone wild camping but the issue is there is far too many people camping at Ruby Bay," she said.
"It isn't a campsite and if you look online it states that you should camp in small numbers which definitely isn't happening and I think tensions are running high as we are still dealing with a pandemic so people are worrying about that too."
Residents near Clunie Loch said they were once again faced with long lines of cars parked up on narrow roads.
They said campers at the water's edge were generally well behaved, but raised voices could be heard at one point during the night.
The council unveiled its new strategy to address concerns on Friday, with new fast-track powers to create 'clear-ways' at certain sites.
This gives police powers to fine motorists for inconsiderate parking, and tow away vehicles if they are deemed to be a danger.
As well as Loch Clunie, the campaign focuses on several other sites in Perthshire.
Highland councillor John Duff said: "I visited a number of residents along the south side of Loch Tummel and they are sick fed up with the behaviour of a considerable number of irresponsible campers who block the road, invade their gardens, pilfer firewood and make a mess."
The Conservative said: "They are giving all campers a bad name in the area."
He welcomed plans to declare Foss Road, a rural clearway.
Mr Duff added: "I hope that visitors will understand the impact that irresponsible behaviour is having on local residents and the environment and do all they can to cut it out, enjoy the outdoors responsibly and leave the countryside as they found it."
SNP MP Pete Wishart said the situation was unsustainable.
"I spent the day in Highland Perthshire looking at this situation on Friday," he said. "There roads that were barely passable, rubbish strewn everywhere and communities feeling under siege. It cannot go on."
Angus Council leader David Fairweather said he didn't think there had been too many wild campers in the county.
"In my experience, most people have been responsible, but it comes down to the people who are out there behaving."