Travellers who have set up in Perth call for council to move them over child safety fears
By
Sean O'Neil
July 29 2020, 8.40am
Updated: July 29 2020, 5.37pm
Travellers who have set up camp in Perth have called on the local authority to move them to a safer location with electricity and toilet facilities, amid safety concerns for young children.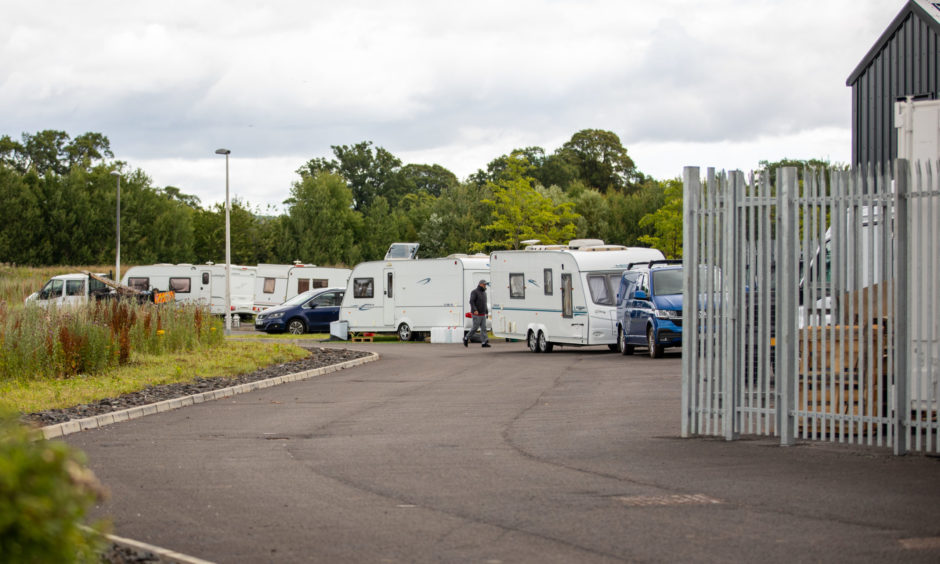 Around a dozen caravans arrived at the Food and Drink Park in North Muirton around 7am on Tuesday.
Both nearby businesses and the Traveller families say they are worried about the placement of the camp due to the number of large vehicles at the industrial estate.
The land is close to the Double Dykes permanent site in the city, however there are currently no authorised temporary stopping places for Travellers.
Perth and Kinross Council approved a Negotiated Stopping Places pilot scheme last year, that would give Travellers a right to occupy pre-agreed, council owned sites for a period of 28 days.
Councillors approve pilot scheme to allow Travellers to camp on council land for 28 days
However, families at the new camp said they had never been told of the scheme, despite visiting Perth on a regular basis.
A spokeswoman told The Courier: "We've always been here, coming and going and I've never heard of it.
"The council have never been in contact.
"We're looking for somewhere safer to go because there's a lot of cars and lorries coming and going. We want somewhere with electricity, toilets and showers."
A Traveller encampment at Broxden Park and Ride was reported to child services by a local councillor last year, due to concerns for youngsters playing in close proximity to the buses.
Travellers move out of Perth park and ride after being served with eviction notice
Bosses at McLaughlan Transport, a haulage company at the Arran Road industrial estate in North Muirton, said having young children in the area was a risk.
George McLaughlan said: "They do provide an additional danger.
"They're not at the moment directly impacting us but the industrial park is not the best place for kids.
"I don't know there's a lot the council can do. They could buy a huge field but they are only here for six weeks and then they are gone.
"You've got to live and let live but they do leave behind a lot of mess."
A council spokesman said it had not been contacted by the group ahead of their arrival and added that the Negotiated Stopping pilot was still being "progressed".
He said: "The council are aware that a group of Travellers arrived at Arran Road earlier today.
"Our staff will visit the site on Wednesday morning to assess the situation and discuss with the residents their intentions.
"Support, advice and assistance will be offered in line with Scottish Government and COSLA framework to support Gypsy travellers during the pandemic."
He added: "The group did not contact the council prior to their arrival today.
"We continue to work alongside COSLA and the Scottish Government as part of a national Negotiated Stopping pilot, which we are continuing to progress."