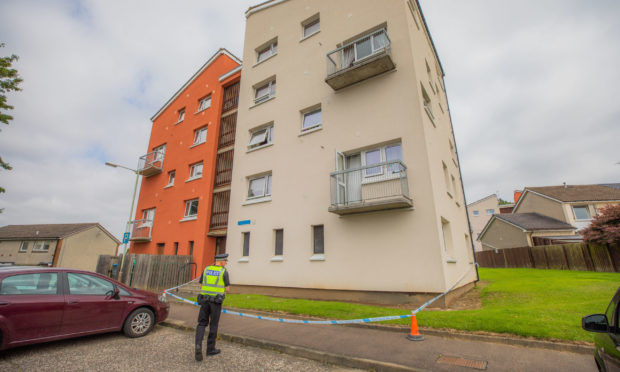 A five-year-old girl has sustained serious injuries after falling from the third floor window of a block of flats in Perth.
The child was rushed to Ninewells Hospital in Dundee following the incident at Newton Place in the Tulloch area of the city around 7.15am on Thursday.
Emergency services rushed to the scene of the accident, which a neighbour said left him "feeling sick".
The Courier understands the girl had been trying to wave out of her bedroom window when the accident happened.
A neighbour said: "They seem to think that the wee girl was waving out of the window and she fell out.
"It's just an unfortunate accident. Reaching out to wave to a friend that might have been out the window.
Five-year-old girl injured after falling from window in Perth
"She had just began going out to play recently and I wonder if she didn't realise what time it was and thought her friends would be outside."
The resident wished the girl a speedy recovery but believed the injury would be severe due to the height of the drop to the ground below.
He said: "I imagine it was very serious. She was taken to Ninewells. It makes you feel a bit sick."
The neighbour added he did not believe the windows of the block of flats to be unsafe, saying it was just a bad accident.
Another resident added: "I was asleep when it happened but when I got up I just saw the police at the flats."
Police were stationed in front of the block of flats throughout Thursday but the force say they are not treating the incident as suspicious.
Although she sustained a serious injury, the little girl's condition is not life-threatening and police are continuing their investigation.
A spokesperson for the force said: "At around 7.15am on August 13 police were called to reports of a young child having fallen from a window of a house in the Tulloch area of Perth.
"The five-year-old girl was taken by ambulance to Ninewells Hospital in Dundee."
They added: "She sustained serious injuries but not life-threatening.
"It is not being treated as suspicious but investigations are still ongoing."