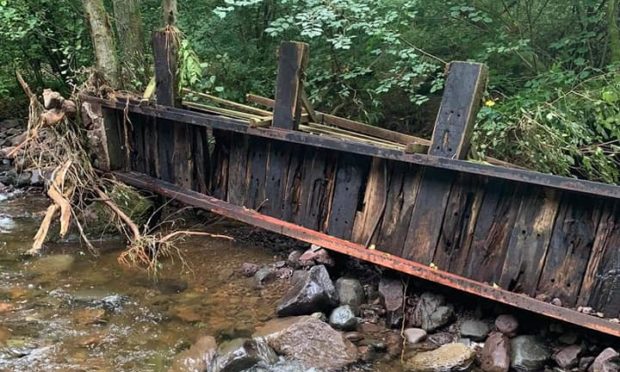 Locals in a Perthshire village are rallying to repair severe flood damage to a popular walking spot.
Last week's storms wreaked havoc on low lying land around Dunning, leaving a number of properties under water.
However, some of the most striking damage was sustained at the walk known as "The Den" on the village's outskirts, where the Dunning Burn rerouted its path, washing away segments of the footpath.
Two wooden footbridges which were installed in the 1990s were also swept away.
The beauty spot is managed by Pitcairns Estate and Dunning Community Council is now putting together a volunteer squad to get to work repairing the much-loved forest walk.
A spokesperson for the group said: "We are all acutely aware of the damage caused by the recent storm to the village centre however the Den suffered significant damage too.
"There will need to be repairs done and the replacement of one of the bridges.
"The burn had decided to alter its course, washing away the path."
The community council is headed by retired Sepa hydrologist Jim Petters.
Having seen the community come together to support one another at the start of lockdown, he said he was certain the village will unite again to rebuild the Den.
"The Den is owned by Pitcairns Estate," he said: "Before anything can happen, they've to give it the nod.
"We need to work out what we can do and how we can do it. There's definitely a willingness and I think we'll have no shortage of people keen to help.
"It's about a two and a half mile path and people come from far and wide to walk there."
Talks between estate managers and the community council are being arranged. It's hoped they will take place later this week.