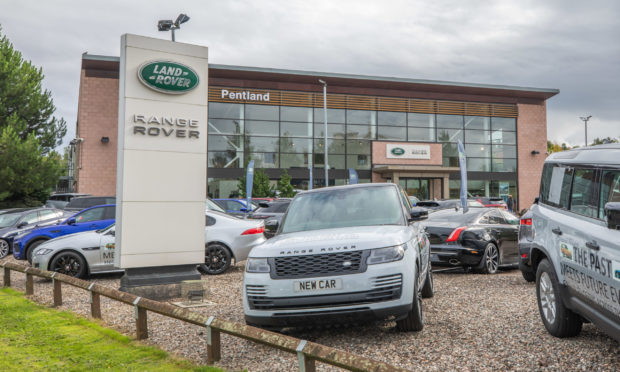 Staff at a prominent unit on Perth's Motor Mile are self isolating after three workers tested positive for coronavirus.
Employees at the city's Land Rover car dealership and bodyshop are self-isolating at home after finding out that two members of staff had tested positive for Covid-19.
NHS bosses say they are working closely with the Dunkeld Road dealership, which is run by John Clark Motor Group.
The branch closed for a day last week to carry out a deep clean when the positive tests came to light.
A health board spokesperson said: "One member of staff and two contract workers have tested positive for coronavirus.
"There was an immediate response to the cases which included extensive testing of individuals associated with the business and detailed contact tracing is under way. All close contacts have been advised to self-isolate for 14 days.
"As a precaution, the dealership chose to close its premises on Thursday, 20 August for a deep clean of all areas and vehicles. The business reopened on Friday, 21 August and a subsequent inspection by environmental health officers found processes in place to be satisfactory."
NHS chiefs say the health protection and environment health teams are still "closely monitoring" the situation.
Management have reopened the dealership and say that safety is paramount.
A spokesperson said: "Throughout the unprecedented and evolving Covid-19 pandemic, John Clark Motor Group has focused on protecting the health, wellbeing and safety of our customers, colleagues and wider public, never more so than since reopening our doors for business on June 29 in line with the Scottish Government guidelines.
"Despite these significant efforts the group can confirm a sub-contracted employee at one of our Perth dealerships displayed mild symptoms of the virus and has since tested positive for Coronavirus.
"Subsequent to this, a further sub-contracted employee and one other colleague have also tested positive. All three immediately self-isolated.
"In accordance with the group's Covid-19 contingency plans, all necessary actions have been implemented, including a full site deep clean and sanitisation, as well as providing the appropriate support for extended staff testing.
"Following guidance from the Forth Valley NHS Health Board consultants, all colleagues deemed to have been at potential risk have subsequently self-isolated for the required 14-day period.
"Our sites remain open with the appropriate PPE, sanitisation and distancing measures in place for both colleagues and customers."
Local MSP John Swinney praised the firm and health board for acting swiftly to contain the virus
He said: "Whilst this news is undoubtedly concerning, I am pleased that steps have been taken to minimise the risk to the wider public.
"Management have acted swiftly by closing the garage, and staff are self-isolating as per Scottish Government guidance.
"It is now important that the correct contact tracing procedures are followed, in order to ensure that any potential related cases are dealt with as quickly as possible."