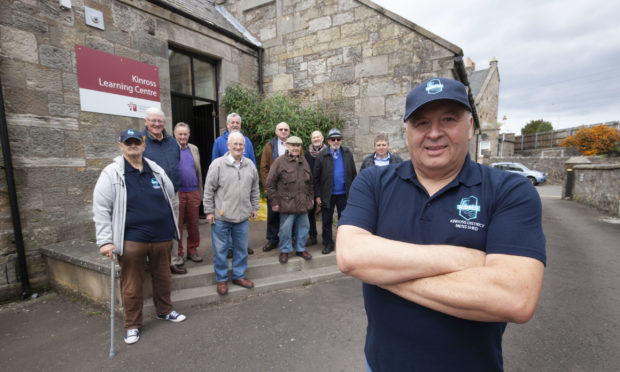 A Kinross-shire community group that was on the brink of homelessness last year has wrapped up an astonishing PPE drive which saw members build 4,500 visors for key workers.
The Kinross and District Men's Shed crew have been putting their 3D printer to good use throughout lockdown by manufacturing protective kit for medics.
Volunteers in Tayside and Fife hailed for community effort after supplying PPE for care homes
The group built thousands of safety visors which were sent as far as community nursing teams in Edinburgh, as well as to care homes across Fife and to Kinross-based children's hospice charity CHAS.
Raw materials used to build the face screens, such as filament, clear plastic sheets and elastic, were purchased with funds raised online, as the group's GoFundMe page racked up more than £3,700 in donations.
With the funds, the group were able to order a another two 3D printers to increase their output.
It comes after leaders considered throwing in the towel when they had to move out of their previous base in a warehouse in Milnathort.
Instead they took on the former UHI learning centre in Kinross and were able to get to work on community projects.
With almost everybody who needs access to PPE now receiving the safety equipment and the shortage quelled, the group have decided to call it a day on production.
Chairman David Conner said the intention was to donate the spare 3D printers to a local school "when life returns to normal."
He said: "Kinross and District Men's Shed would like to thank everyone who contributed financially as well as to the manufacturing of face visors during the pandemic.
"Without the combined effort of every single one of you we could never have produced and supplied over 4,500 face visors for our frontline workers and those who needed the protection from COVID 19 during the emergency."
David said he and his friends were proud to have been part of a community effort which saw masks delivered to Glasgow, Edinburgh, Dunkeld, Dundee and St Andrews at a time when they were desperately needed.
"We are no longer manufacturing visors as there is no longer a demand for them due to PPE being supplied through the proper channels," he said.
"Hopefully we will not need to do this again."