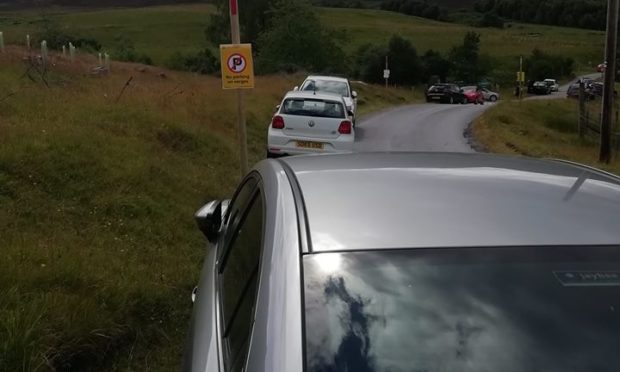 Scotland's national rambling body is at loggerheads with Perth and Kinross Council over its parking restrictions designed to curb wild campers.
Highland Perthshire communities have been tormented by the problem this summer, with more than 100 cars parking along main roads on the shores of Lochs Tay, Tummel and Rannoch every weekend since the easing of lockdown.
Local authority chiefs acted to introduce urban clearway orders – effectively banning all parking on a handful of hotspots and allowing enforcement measures to be taken against vehicles parked on nine A, B and C class roads for the next year and a half.
However, Ramblers Scotland and Mountaineering Scotland have united to condemn the "disproportionate" move, saying it will limit access to tourist destinations.
Brendan Paddy, Ramblers Scotland director, said: "We completely condemn the irresponsible parking in rural Perthshire in recent months, but these kneejerk parking bans will prevent many considerate, law-abiding residents and tourists from enjoying the area's wonderful countryside."
Mountaineering Scotland chief executive Stuart Younie said: "This blunt prohibition on parking for visitors is in our opinion a failure to anticipate increased demand for access to the scenic hills and glens of Perthshire, and to effectively manage it."
The groups want to see a national strategic approach to deal with irresponsible parking issues across Scotland.
However, opposition and administration councillors both insisted the banning orders were the best way of protecting communities, at least as a short term fix.
Highland Perthshire's SNP councillor Mike Williamson said: "I accept clearways are not a silver bullet but it means everyone has to sit down not and work out a long term solution. It's not just about wild camping, it's campervans and jet skis too. There's a lack of infrastructure which has been pushed beyond breaking point this summer."
The area's Conservative representative John Duff said: "Every weekend in recent weeks we have frequently seen cars parked nose to tail, often on both sides of the roads and verges and around corners, along large stretches of the roads in question.
"This has made the passage of vehicles precarious, caused drivers to have to reverse for long distances to find a passing place and generated significant local concern that ambulances and fire engines would not be able to reach them in an emergency."
A council spokesperson said: "Everybody has a right to enjoy Perth and Kinross' beauty spots.
"However, due to an unprecedented number of visitors to areas such as Loch Clunie and Schiehallion this year, it has been necessary to introduce some temporary restrictions on parking in order to keep narrow rural roads clear for emergency and farm vehicles.
"We took this action in response to requests from the local communities and elected members.
"We have no wish to stop anyone visiting the countryside but ask that those who do are considerate of other road users and the people who live there."