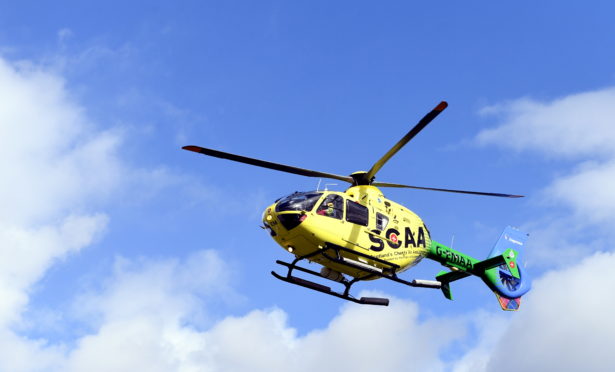 A Perth-based lifesaving charity is encouraging former patients to share their stories as part of Air Ambulance Week.
Scotland's Charity Air Ambulance (SCAA) has helicopters based in the Fair City and Aberdeen, and has provided emergency care since 2013.
It is now reaching out to the patients whose lives the charity has saved or improved as part of this week's events.
Chief Executive of SCAA, David Craig said: "No one tells of the work we do as powerfully and emotively as our patients.
"Their often harrowing yet uplifting personal experiences are a testament to the daily life-saving efforts, professionalism and commitment of our crews as they battle to overcome distance, time constraints, challenging weather, difficult terrain and life-threatening injury and illness.
"These stories are what inspire the people of Scotland to get behind SCAA and fund our flights – their donations are vital to keeping our service in the air and patient stories are key in highlighting why there is that need."
He added: "Each and every patient is special to SCAA, and their welfare is important to us.
"Many thank us and give something back once the healing process is underway, and one of the most valuable things they can do for us is share their story."
This year's Air Ambulance Week draws on the theme of "because every second counts".
It aims to highlight the importance of speed in reaching patients to improve their chances of survival.
Last month alone, SCAA responded to 65 emergencies across Scotland, with crews reaching patients in some of the most remote communities including Wester Ross and Orkney.
Over the past year, the charity has also flown to its highest number of serious incidents and flown more hours than ever before.
Mr Craig said: "The demands on SCAA's service never go away, and the charity's need of funds – particularly in these difficult times – never lessens.
"But in addition to those who so willingly and generously donate to our cause, our patients can play a vital role in spreading the word regarding how important our service is to Scotland."
Anyone helped by SCAA who is willing to share their story can email media@scaa.org.uk or phone 07778 779888.