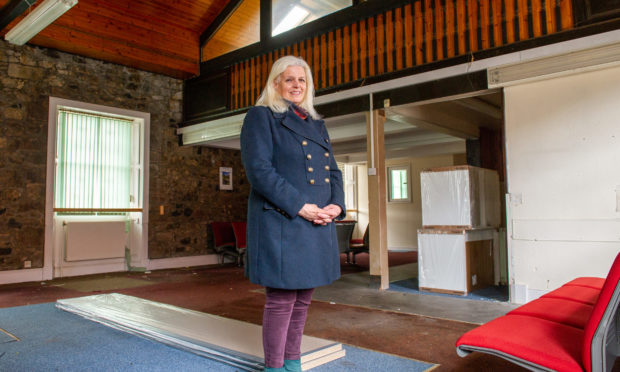 Ambitious plans to open a fine-dining vegan restaurant in the grounds of a maximum security prison have been given the go-ahead.
A disused social club at HMP Perth will be transformed for the one-of-a-kind cafe and bistro, which will be staffed by prisoners and people with convicitons.
Project leaders at local social enterprise business Starting Step say the aim is to give employees a second chance in life.
Named after an historic tree at HMP Castle Huntly, the Yew Tree restaurant will also offer help to people with drug and alcohol-related mental health difficulties, as well as providing jobs outside the criminal justice system.
Detailed plans for the A-listed building were submitted to Perth and Kinross Council in May, after successful discussions between Starting Step and the Scottish Prison Service.
Now planning chiefs have approved the scheme, saying it could help reduce re-offending.
In a report drawn up by the planning department, an officer notes: "The proposed use has been developed as a means to invest in skills development for ex-offenders, enabling cost-effective returns through a reduction in repeat offending."
Planners made their decision without visiting the property due to Covid restrictions.
Starting Step chief executive Dodie Piddock said she was pleased to see progress being made.
"The next stage is the building warrant, tender and invite for bids," she said.
"I am naturally an optimist so we are looking to be able to aware the bid in early January.
"This would mean that we can open in spring, although this is all dependent on funding."
She said horticultural training will start at HMP Castle Huntly next month, thanks to £9,500 of National Lottery funding. "This will allow us to develop the future links with the Yew Tree at HMP Perth," she said.
The social club was originally built as guardhouses in the early 19th century. It is one of three surviving buildings from the former prisoner of war complex on the site, which houses French inmates during the Napoleonic wars.
The property is still owned by the prison service, which is closely monitoring Starting Step's project.
It will initially open as a cafe for up to 50 people, but there are further plans to offer a "fine dining" restaurant experience with a full vegan menu in the evenings.