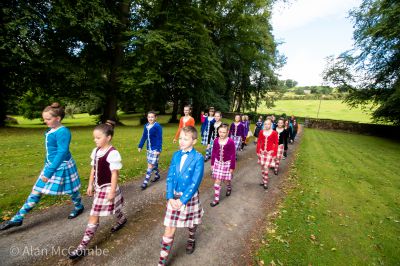 A scaled down and socially distanced Highland games event has been held in Perthshire.
The Blairgowrie and Rattray Highland Games were able to provide a taster of the popular event, which usually draws crowds from around Scotland.
Volunteers organised the 2020 event – held on the grounds of Ardblair Castle – to provide an idea of what this year's full Highland Games would have looked like.
A video of the event was shared on the games' website on Sunday to coincide with when the games should have taken place.
Chairman of the Blairgowrie and Rattray Highland Games, Ally Donald said: "We took the difficult decision to cancel the Games back in May but wanted to do something to mark what would have been the Games Day itself.
"The Games are a very popular event in the Blairgowrie and Rattray calendar and we know that, while everyone understands why events like these can't take place at the moment, people are still missing them."
The day included a range of the usual events such as a scaled-down opening ceremony, highland dancing, tug 0′ war and demonstrations of stone lifting.
Bagpipes were also played at the event by Dundee-based piper Liam Eaton and Bob Stewart of Rattray.
Alyth's Lily Tosh, one of the dancers who participated said she missed the social aspect of the games.
The youngster added: "It was really good to take part in this film because it gave us a little snippet of what the year should have looked like and I hope it does for everyone watching as well.
"We're all working very hard to get back for next year."
Mr Donald expressed his thanks to everyone who made the film come to life.
He said: "The Games committee was fantastic and and pulled out all the stops to make sure we could showcase some of the traditional events while at the same time ensuring we stuck to Scottish Government guidelines around Covid-19.
"We hope that this wee film will be a nice reminder of the wonderful cultural and heritage traditions of the games."
Next year's Blairgowrie and Rattray Highland Games is planned to go ahead on September 5.