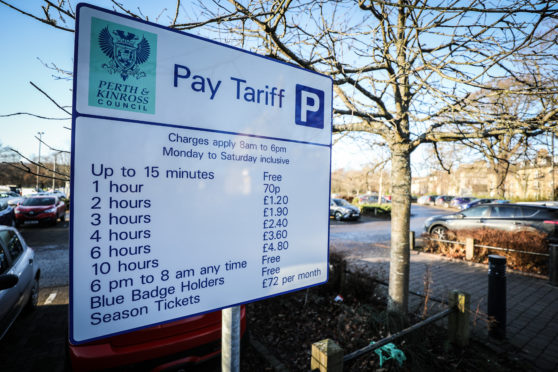 Higher fines for illegal parking have been suggested as a deterrent in Perth and Kinross as income from tickets soared.
Money paid to the local authority in parking fines has increased by more than £200,000 in five years, according to new figures.
Last year, just under £526,000 was pulled in through fines, compared to £346,000 five years ago.
It is thought the rise has been prompted by an increase in parking wardens, but Angus Forbes, the council's convener of environment and infrastructure, said the money collected reflects the number of people who break the law.
"The amount of money collected in parking fines will be representative of the number of people that break the laws," he said.
"Perth and Kinross parking prices are one of the lowest across the country, additionally we run free periods in the run up to Christmas and parking was free during lock down.
"If everyone paid for their parking, then no one would be fined."
The figures, revealed through a Freedom of Information request submitted to the local authority, showed the biggest hike between 2017 and 2018, when parking enforcement was transferred to councils from Police Scotland.
Perth City Centre councillor Peter Barrett suggested the £60 fine, reduced to £30 if paid within a fortnight, is not enough of a deterrent.
He said: "I'm somewhat surprised by the increase in parking fine income, particularly when you consider the introduction of 15 minutes free parking occurred over a similar period as well as Pay on Foot charging in the main car parks rather than paying for a set duration in advance.
"Motorists who abuse parking restrictions should realise that they will be subject to penalty.
"Given that there must be greater numbers of drivers abusing or flouting parking restrictions, the problem clearly lies with inconsiderate behaviour by motorists or a blasé approach to the level of the penalty.
"Maybe the fines need to be higher to tackle that and provide a greater deterrent?"
A council spokesperson said the rise in parking fine income is due to an increase in parking attendants employed by the authority.
"The council increased the number of parking attendants it employs in May 2017, which has enabled us to respond more effectively to parking issues reported to us and carry out additional patrols where required,"  they said.
"As a consequence, the number of penalty charge notices being issued, and money collected from those fines, has increased."