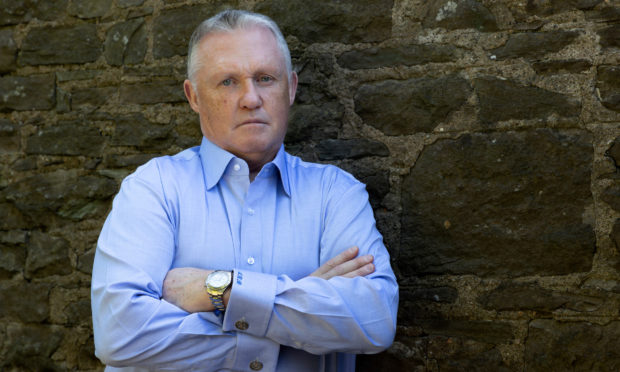 Scotland's largest care home provider has slammed the government's relaxation of visitation rules at facilities as "premature" and "ill-thought-out".
Balhousie Care Group, which runs 22 homes across Tayside and Fife, has criticised the decision that coincides with a sharp rise in Covid-19 cases across the country and confirmed their organisation would not be lifting restrictions.
The Scottish Government announced on Monday care homes could now allow for hand-holding, four-hour indoor visits and up to six visitors at garden meet-ups.
Tony Banks, chairman of Balhousie, lambasted the timing of the announcement, declaring care homes had "went through hell" during the first spike.
Tayside care home boss blames mismanagement and missed opportunities for high number of fatalities
He said: "While we welcome improved and enhanced care home visits and fully appreciate the wellness benefits more visits would bring our residents, Monday's announcement was premature and ill-thought-out.
"Why, in the middle of another sharp spike in community transmissions of Covid-19, would we relax our rules and put our residents and staff at possible risk of infection?
"Scotland's care homes went through hell in the Spring during the first Covid-19 spike.
"I never want to put our residents, families or staff through that again."
The care home chairman called for efficient and accurate testing for all staff members as well as visitors before they enter homes.
"We need to be confident that we are doing all we can to stem possible transmission of the virus," said Mr Banks.
"Opening our doors wider only widens the risks. And for us, right now, that is an unacceptable risk."
Balhousie were also concerned Scottish Care had supported the relaxation of measures and claimed members had not been consulted by the organisation.
Renaissance Care, which runs 15 care homes across Scotland including Beech Manor in Blairgowire, will be implementing the new guideline with "extreme caution".
A spokesperson for the group, founded by Fife man Robert Kilgour, said: "While we are very much committed to introducing enhanced visiting across our homes as soon as possible, the health and safety of all our residents, staff and relatives remains our first priority.
"We will be working closely with Public Health Scotland and the Care Inspectorate to ensure any steps taken towards closer contact visiting are met with extreme caution to protect our people."
Tayside care home provider accused of lacking transparency after refusing to release information regarding deaths at facilities
The Scottish Government argued visitation was "vital" to the wellbeing of residents and their families and urged care homes to put in place conditions that would support the new measures.
A government spokesperson said: "The latest guidance has been developed with input from family members, carers, and clinicians to offer greater flexibility in visiting arrangements, and indoor visiting in particular, as winter approaches.
"We recognise the challenges faced by care home providers in preparing for and implementing visiting, especially for indoor visitors and appreciate the efforts made by care home staff to support families to visit their relatives.
"However, alongside the need to avoid the risk of Covi-19 entering care homes, it is vital that we also consider the risks associated with residents having reduced contact with their loved ones."
Scottish Care defended its position but stated the decision to implement the measures remained with local care provides.
A spokesperson for the organisation said: "No visits are without risk during this pandemic.
"However, it is our position and that of many care home providers that the easing of visiting restrictions – whilst continuing to prioritise safety, flexibility and local circumstances – is an important and necessary step towards ensuring that residents' rights remain protected and the ongoing harms associated with limited contact and connection can be mitigated."