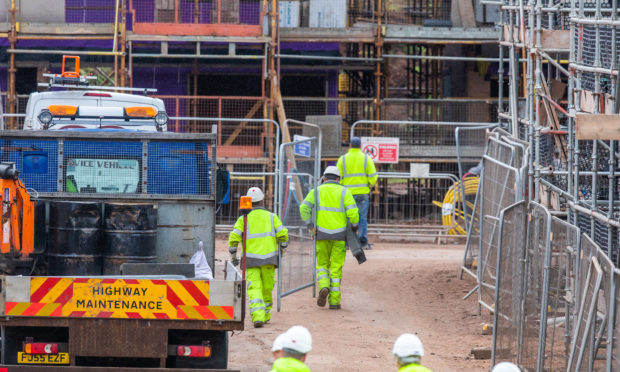 The builders behind a controversial site in Kinross have appealed to Scottish Ministers after an application to expand the development was rejected by the local authority.
Persimmon Homes wants the government to overturn the decision taken by Perth and Kinross councillors in July which saw the next 169-home stage of the Lathro Farm scheme refused.
Councillors, including those from the Kinross-shire ward, had raised fears about overdevelopment in the area and the effect more houses would have on the water quality of Loch Leven.
Controversial planning application for Kinross' Lathro Farm site rejected amid sewage fears at Loch Leven
Despite more than 170 objections, planning officials at the local authority had recommended the application for approval before being overruled by elected members.
The Lathro Farm project has been beset by problems with residents and neighbours reporting a number of issues with the development.
Last year Persimmon Homes notified homeowners  that their properties may not be properly fire-proofed and in the same month the company was fined £1,000 by Perth and Kinross Council over a breach of condition relating to tree protection on the site.
Kinross man has sleepless nights after Persimmon Homes says homes may have fire-proofing issues
The local authority was also forced to fence off streets at the estate, where homes start at £150,000, because they had been built by without proper consent.
In their appeal to Scottish Ministers, Persimmon Homes argued that the project fits the council's own local development plan and questioned elected members' knowledge of planning regulations.
A spokesperson for the company said: "Some members misunderstood the application of planning policy and failed to comprehend key aspects of the proposals in reaching their decision."
They added: "We consider that the applicant has demonstrated beyond all doubt that the proposals will not have any adverse impact on the water quality of Loch Leven, nor will it result in any traffic or flood risk impact on Gallowhill Road.
"As such, we do not consider that the reasons for refusal on these grounds are justified."
Earlier this year councillors refused a 67-home development at Pitdownies in Milnathort which was appealed by developers Springfield Properties.
Much to the anger and shock of the community who had campaigned against the development, the Scottish Reporter overturned the council's decision and granted planning permission.
A spokesperson for the local authority said: "Perth and Kinross Council acknowledges that Persimmon Homes have appealed the refusal of their planning application for 169 houses at Lathro Farm which was rejected by councillors on 1 July 2020.
"The council is engaging in the appeal which will be considered by the reporter appointed to determine it on the Scottish Ministers' behalf."
'Bitterly disappointing': Angry campaigners slam Reporter decision to allow controversial development at Milnathort