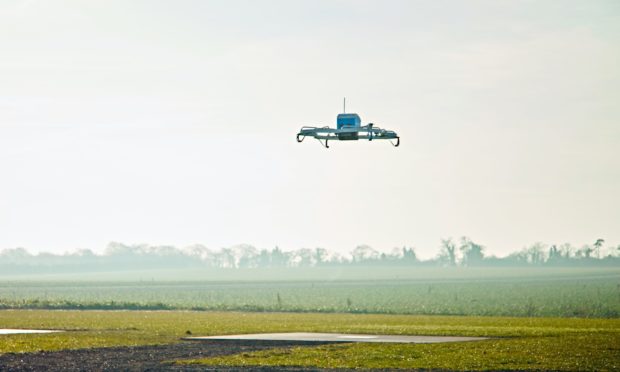 An eagle-eyed flying student avoided the "high" risk of a collision with a drone over Perthshire, an official probe has heard.
The Piper Cherokee 28 (PA28) light aircraft was at 1,900 feet over Perth Airport when it saw the drone.
The incident happened at 2.34pm on June 30 and was reported to the UK Airprox Board which investigates near misses.
The PA28 pilot was descending when the student saw the drone first and told the instructor that there was an object at a similar height.
"Their standard deadside descent took them around the object, so there was no avoiding action required other than to observe that there was no change to the drone's position," said the pilot's report.
"However, had they not seen it and descended around it, the risk of collision would have been high.
"The drone was round and red/orange, about 30cm in height and 80cm in diameter.
"It was stationary and seemed to be 'horizontal' rather than 'vertical' and so did not look like a balloon.
"Subsequently, they reported it to tower so that other aircraft could be informed."
The board said that the pilot's overall account of the incident portrayed a situation "where although safety had been reduced, there had been no risk of collision".
In May, it was revealed that a drone came within a few feet of a passenger plane landing at Edinburgh Airport.
Investigators said a "definite risk of collision had existed" and "providence" had managed to avoid an accident.
In a report by the UK Airprox Board, the Saab 340 pilot said he was just one mile from touchdown at 4.45pm on February 5.
But then he saw the drone. He estimated that the separation was as little as 50ft vertically and 15ft horizontally.
The board rated the risk of collision from the incident as A – its highest level.
There have also been increasing numbers of drone-related incidents over Scottish skies in recent years.
A passenger plane pilot coming into land at Edinburgh last year was alarmed to see a drone a few hundred feet away.
The Airbus A320 pilot said that he was descending when a drone was about 200ft above him and a quarter of a mile away horizontally.
The board said the drone was being flown above the maximum permitted height of 400ft.
In February last year, a drone came so close to a Loganair flight near Glasgow Airport that the pilot feared it might crash into the aircraft.