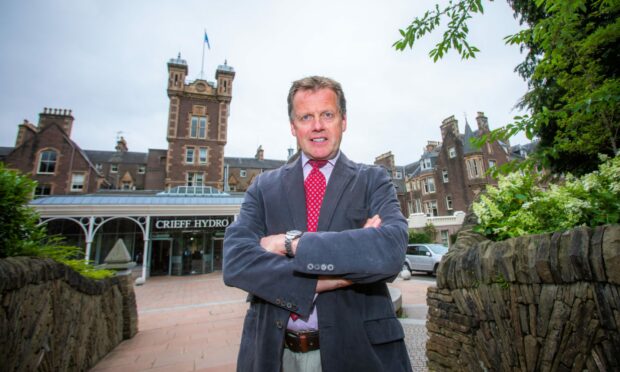 The move to tougher Tier 3 restrictions has been described as a "body blow" to businesses across Perth and Kinross.
The region was levelled up by First Minister Nicola Sturgeon after the rate of coronavirus cases soared by nearly a third over the last week.
The vast majority of cases are in local schools, with a handful at food production sites.
Stephen Leckie, chief executive of the Crieff Hydro hotels group said he was glad a national lockdown had been avoided, but added: "We are bitterly disappointed with the decision to bring Perth and Kinross into Tier 3.
"We urge the Scottish Government to work with the data specific to each area on its own merit and identify the exact reasons behind any isolated cases and take these into account, rather than penalising those businesses and sectors who are following the guidelines to the letter and are not contributing to the spread."
Mr Leckie, who is President of the Perthshire Chamber of Commerce, said restrictions should be lifted as soon as the numbers allow.
"The upshot is, that, once again, certain businesses and sectors are bearing the brunt and facing the devastating impact of these restrictions," he said. "For those in some sectors, including tourism, hospitality and retail, this undermines their ability to survive.
"We continue and emphasise our call on the Scottish Government to urgently provide a strengthened financial support package that our local businesses can access easily and quickly. Without this, we face the very real prospect of businesses not being able to afford to continue trading and, inevitably, widespread job losses."
Council leader Murray Lyle, who had been given assurances that the region would remain in Tier 2 on Monday morning, said he was informed of the change later that night.
"I am disappointed," he said. "I can understand the arguments put to me last night. There has clearly been a rise in the number of cases.
"But we were confident that, in Perth and Kinross, we were managing the individual outbreaks competently. There was no significant community transmission in this area and there have been some parts of the region that haven't had any cases at all."
Mr Lyle said: "I have every sympathy with businesses, particularly in the hospitality sector. I am not aware of many outbreaks in this sector, yet that seems to be the area that will be most affected by Tier 3.
"To keep the schools, we are shutting down quite a bit of business. But the decision has been made and I would hope that we can get through this, see a decline in numbers and maybe have a more normal Christmas."
Deputy First Miniser and Perthshire North MSP John Swinney said the announcement would be disappointing for locals. "But it is a necessary change given the rise in cases in recent days," he said.
"There has been a 32% rise in cases in Perth and Kinross in the last week, so the Scottish Government has taken the precautionary steps of moving the area to level three.
"This is to ensure swift action is taken to reduce infection and to protect lives."
Mr Swinney added: "I appreciate this change will raise difficult challenges for businesses, but I would urge everyone to work together to tackle the situation we face. If we play our part, we can reduce the prevalence of the virus and see a move back to better circumstances, sooner rather than later."
Alexander Stewart, Conservative MSP for Mid-Scotland and Fife said the First Minister's announcement was "extremely disappointing".
Fellow Tory MSP Murdo Fraser added: "It is a particular blow for businesses in the hospitality sector who have already been struggling with the restrictions and have found it difficult to operate."
He said it now essential for the Scottish Government to make use of the £1.7 billion of extra funding provided by the UK Government to support businesses in jeopardy.
"If the Scottish Government do not act quickly and release these funds, they face the risk of turning a health crisis into a jobs catastrophe."