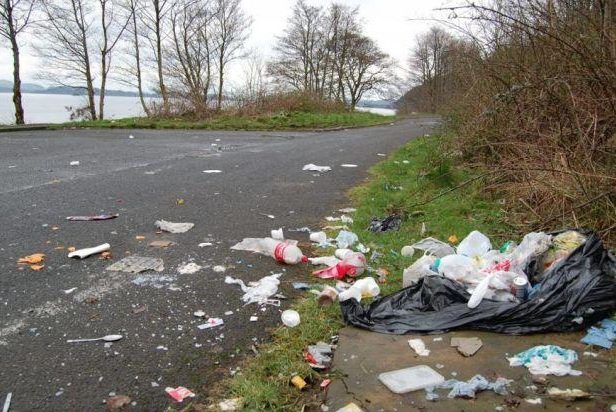 Politicians may consider a "blanket ban" on wild camping in certain areas, following a concerted campaign by a Perthshire grandmother.
Sue Band of Murthly was so appalled on a recent day out that she has written to local councillors and MSPs questioning whether new legislation should be considered.
"It was a lovely day here so we took our canoes to Loch Tummel for a paddle up the loch, which is something we have done once or twice a year over the past 35 years or so," she said.
"Back then it was easy to find a bonnie place to have a picnic, launch the canoes and even swim if it was warm enough.  Over the years all that has changed.
"In a lovely little bay, we found dozens of beer bottles.  Altogether, from just a couple of small sites on the lochside, we collected 41 glass bottles, a large polypropylene ground sheet, a sodden pair of men's leather boots, frying pan and a saucepan.
"We could do nothing about the piles of broken glass, the burned out tent, the remains of bonfires under the trees and the damage to the trees themselves.
"I know this problem is not restricted to Loch Tummel, and many other lochs with roads beside them are similarly affected. What does it say to our valued tourists?
"But what really upsets me is that I can never now take my grandchildren to play in the bay where their father, when he was a little boy, learned to paddle a canoe and where we used to swim and enjoy the environment.
"Who knows how much broken glass and other unmentionable items are on the bed of the loch and around the lochside?"
She said most people would never dream of "desecrating the countryside in this way" and suggested a number of ways the issue could be tackled.
"Consider a blanket ban on wild camping within, say, a mile of any road or track on which you can drive, as in many other European countries — but that seriously interferes with our much-valued freedom to roam and disadvantages anyone who is unable to walk far, but who nevertheless wishes to enjoy our wonderful natural environment," she said.
"Pay for many more countryside rangers and make sure that they are backed by legal powers strong enough that perpetrators, once they are caught, can be made to take responsibility for their actions."
Mrs Band said parking places along the lochside could be blocked with boulders, but conceded that prevents responsible tourists from having access.
Murdo Fraser MSP, one of those contacted by Mrs Band, said: "There have been issues with a minority of irresponsible wild campers around Highland Perthshire lochs in recent years, which the authorities have tried to tackle through a combination of police and ranger activity.
"Anyone visiting the great Scottish outdoors has a responsibility to ensure that they leave it exactly how they find it.
"Loch Lomond and the Trossachs National Park has had issues in recent years with wild campers and this has led to outright bans in certain areas. Whilst this must be a last resort, we must ensure that people visiting the great outdoors are well-informed as to their responsibilities, and the action they can face if they behave irresponsibly. "