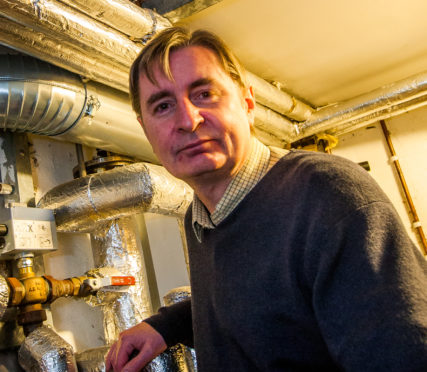 The owner of a closure-threatened Perthshire arts venue said a community effort to keep it open has "restored his faith" in mankind.
David Campbell, project leader of Strathearn Artspace in Crieff, said he was "delighted" with local residents raising £3100 to replace an out-of-date boiler.
The venue, which has attracted the support of Star Wars actors Ewan McGregor and Denis Lawson, had been forced to install extra heaters due to the building plummeting 12 degrees through the day.
Mr Campbell said: "It's been really, really good and is nice to know just how many local people are behind the venue.
"We managed to raise the money within two weeks which is incredible."
He continued: "We had a show on here on Saturday and had to use five electric heaters for those who attended. By replacing the boiler we can fully use the building again.
"We had aimed to raise £2700 to replace the boiler but in the end were given £3100. This has restored my faith in mankind.
"Many of the people who contributed have not been to the venue so it shows the backing we have in Crieff. We have a performance due this Saturday and I was getting worried as the replacement boiler had gone missing through a courier service, but it looks like it will be installed by Thursday."
And Mr Campbell emphasised how an article in The Courier helped the fundraising effort.
"Having the article in The Courier definitely helped," he added.
"We were given a further £700 just after the newspaper article and then I received a cheque for £350 the day after, so the publicity definitely helped. We were at a community market the day after the article was published and lots of people were talking about it."
Strathearn Artspace hosts film screenings, performances by comedians and many other events, including hosting life-drawing classes.