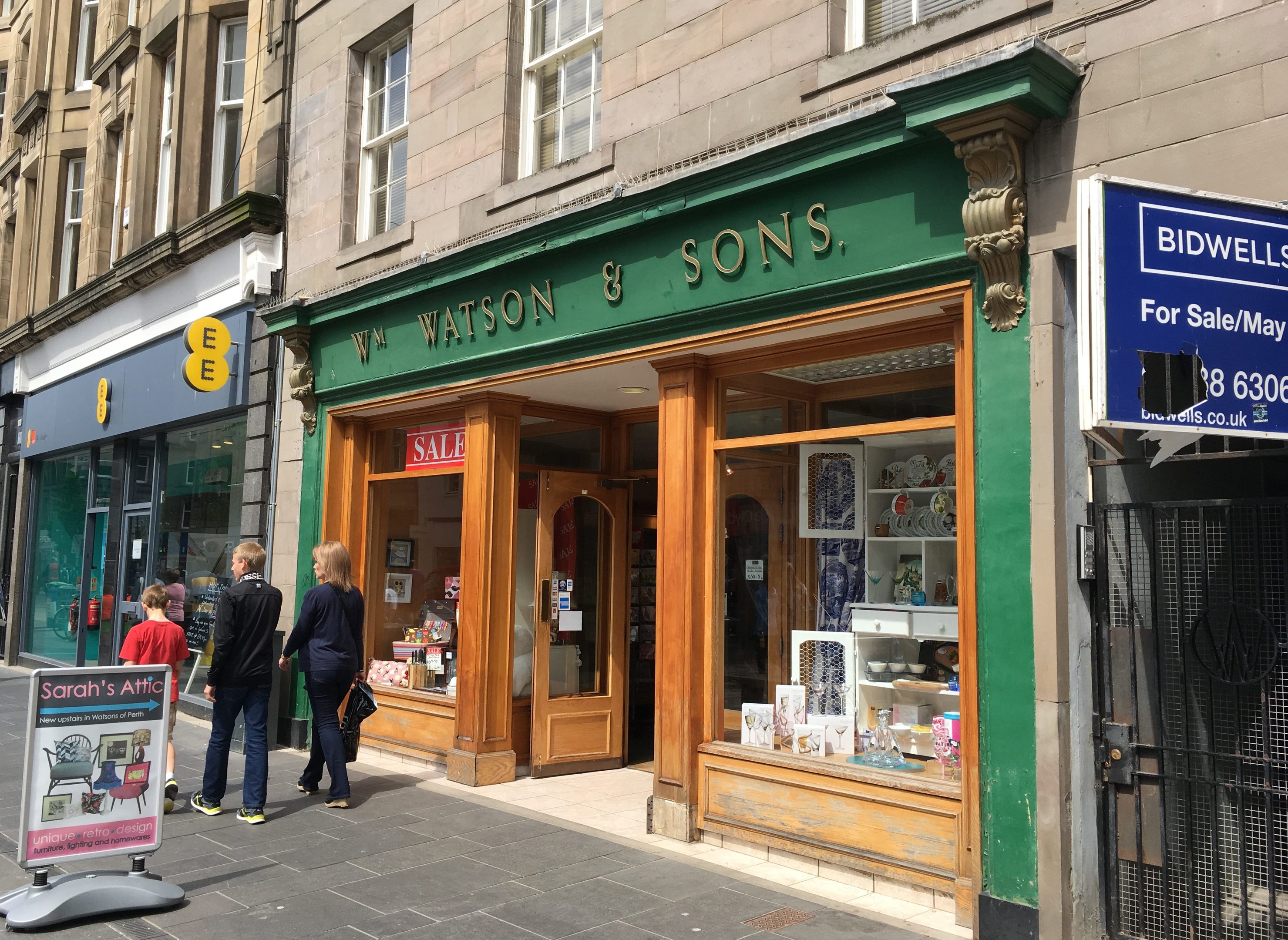 One of Perth's oldest family run businesses is to close its doors at the end of the year after being priced out of the city.
Changing tastes and the burden of business rates have been blamed for the demise of Wm Watson & Sons, a fixture on the city's High Street since 1900.
Currently run by Kerr Watson and known by everyone as Watsons of Perth, the shop has been a Mecca for generations of local people looking to buy glassware, tableware, collectables and wedding presents.
"We are virtually the only privately owned business in the High Street," said Mr Watson, 55, who joined the family concern in 1981 to work alongside his father Bonar.
"It is sad, we have tried to keep it going, but it is not feasible any more.
"Tastes have changed considerably over the years and there is no longer the demand for the quality ranges that we stock. But rates have been the biggest bugbear.
"Business rates have made a city centre location completely unaffordable for most independent retailers."
Mr Watson said that they would pay £40,000 in rates this year, their "biggest expense by far".
He has called for a rethink of rates which reflect more the turnover of a business.
The premises at 163-167 High Street will keep going until in its current guise until December 31 and although the building is being marketed, Mr Watson is hopeful of getting new tenants to take over the building.
Dating from the 1700s, the rear of the building will be demolished to make way for car parking as part of the redevelopment of Mill Street. Flats above which have been empty for some years could be brought back into use in the future.
He thanked the four staff who will be made redundant for their loyal service.
"They have all been with us for a long time, they have been very understanding," said Mr Watson.
"At one time we had 14/15 staff in the heyday in the 1970s, 80s."
The shop stocked all the top names in their area of expertise including Royal Doulton, Worcester and Spode and was an outlet for the famed Perth-made Monart glassware which has become highly collectible in recent years.
"I enjoyed buying nice quality things," said Mr Watson, who travelled to the continent on some buying trips.
The generations of local people who valued Watsons and the service they provided were also an important part of Mr Watson's working life.
"Thanks to all the customers from over the years," said Mr Watson.
Perth and Kinross Council say they are doing what they can to support businesses from the burden of rates.
"Rateable values are set by the independent Scottish Assessors not Perth and Kinross Council," explained a council spokesperson.
"New rateable values come into effect on April 1 2017 based on rents assessed at  April 1 2015.
"Therefore rates due from April 1 2017 will more realistically reflect the post-recession economic situation.
"Under the Scottish Government's Small Business Bonus Scheme, businesses occupying premises where the rateable value is less than £35,000 can apply to the council for rates relief.
"Additionally, as part of its City Centre Resilience Plan, the council provides further financial support to such retail businesses to assist them adjust to the changing retail environment, whilst ensuring Perth remains a fabulous place to shop, eat and spend leisure time in.
"Regrettably the rateable value of shop in question is above the threshold to be considered for any rates relief."