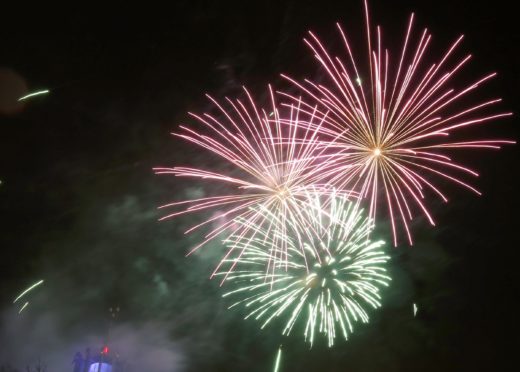 The dazzling parade of Guy Fawkes displays planned across Perthshire started with a bang in Coupar Angus on Friday night.
Hundreds gathered at Larghan Park for the annual bonfire show, one of the busiest staples of the community calendar.
Residents were treated to a display by Blast Design Fireworks, which came second in the hotly contested World Fireworks Championships in 2008.
Meanwhile, Perth Strathearn 200 Round Table is, for the 38th consecutive year, putting the finishing touches to Saturday's Fair City event.
The evening will get under way at 6pm with live music, entertainment and food vendors on the South Inch.
The bonfire, which features an effigy of Guy Fawkes created by pupils at Perth's Fairview School, will be lit at 7pm. Fireworks will follow at 7.30pm.
A display in Crieff, organised by the local roundtable, will be held in Market Place from 6pm.
Music will be provided by local band The Return.
Councillor Douglas Pover, convener of Perth and Kinross Council's community safety committee said: "Bonfire night is one of the highlights of our calendar here in Perth and Kinross and its is fantastic to see large crowds attending every year.
"This year is set to be another firework extravaganza for the whole family to enjoy and for local good causes to benefit from.
"We want everyone to enjoy bonfire night, but we urge people to attend organised events like the one at South Inch, as they offer the opportunity to enjoy spectacular displays in a safe environment."
He urged people attending both displays not to take their own fireworks or sparklers, although glow-sticks are welcome.
Firefighters in Scotland are expecting to be up to four times busier than normal on bonfire night.
Assistant chief officer David McGowan said: "There are many official bonfire events this year and attending one of these can help ensure our resources aren't delayed.
"Illegal bonfires needlessly take up our crews' time and put others with genuine emergencies at risk."
Meanwhile, local vets have also issued advice to pet owners.
Dr Fiona Humphries, of Perth's Fair City Veterinary Group, said: "At this time of year when fireworks are let off sporadically, stress and anxiety becomes common amongst cats and dogs.
"There are however many things that can be done to help keep your pets calm.
"These include providing a den, an enclosed 'safe place' for your pet to hide in. Cover the top of a crate, table or cupboard near the centre of your home or where your pet has previously hidden."
She has also urged owners not to react to squibs and bangers, because pets will respond to their owner's behaviour.