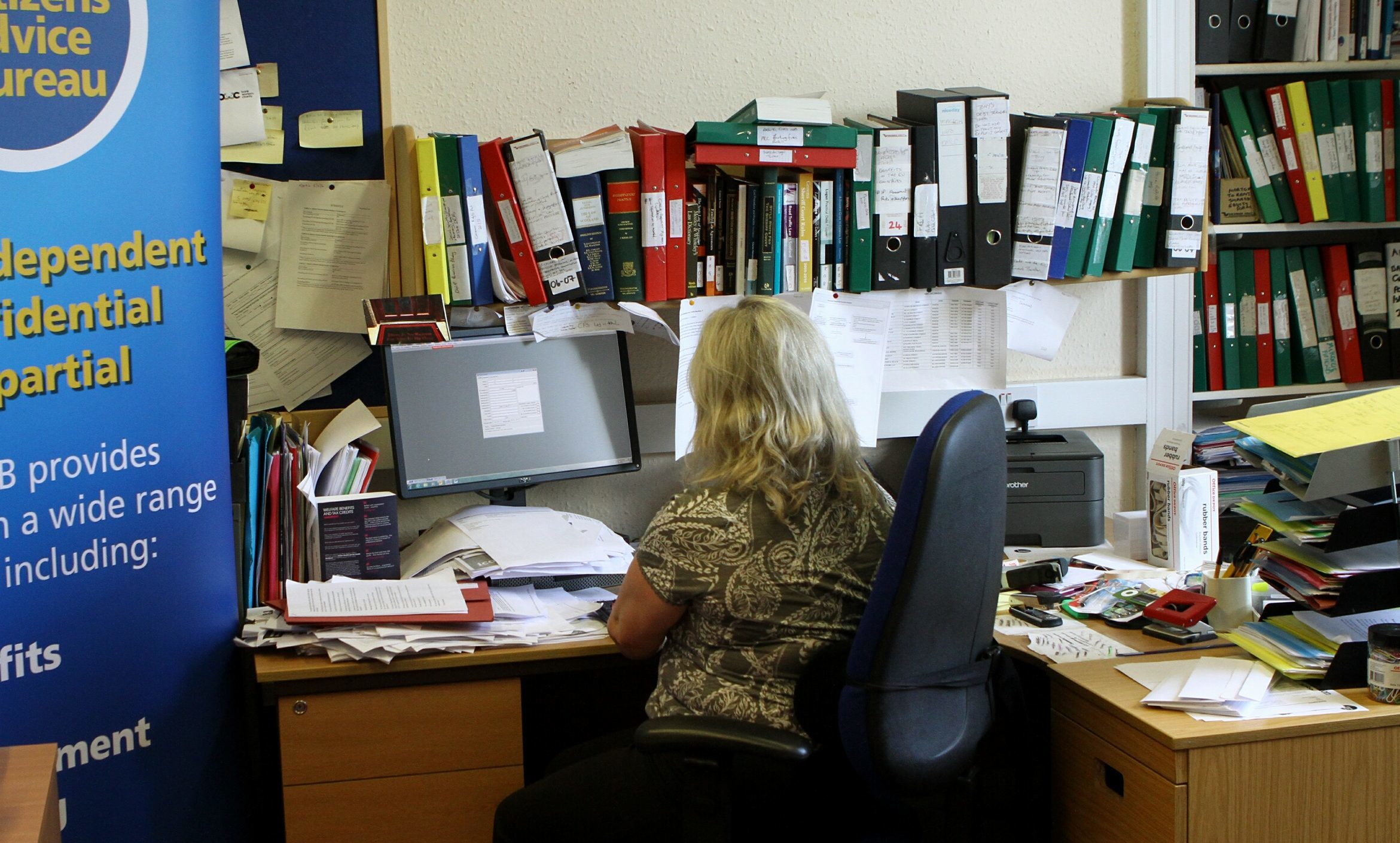 The crippling nature of the debt and poverty engulfing homes across Perth and Kinross has been laid bare in a shocking new report.
It reveals that households turned for help with debts of more than £8 million over the past 12 months alone.
There was also a 60% increase in the number of applications for charitable support, such as food parcels, as residents struggled to pay for basic essentials such as food and heating.
The Perth Citizens Advice Bureau has also reported residents struggling to make sense of the benefits system, with its complexities, payment delays and sanctions pushing them to breaking point.
Amongst the hardest hit have been people with disabilities and life-limiting health conditions for whom the benefits are a lifeline.
While employment has been highlighted as a key means of dragging people free of debt and fuel and food poverty, the low-wage economy of Perth and Kinross continues to be a problem.
An increasing number of those turning to agencies for help are individuals and families who are in work but who nonetheless struggle to pay bills.
Perth's ambitious but ultimately unsuccessful City of Culture 2021 bid recognised that concerning fact and the need to secure better — and better paid jobs — for the region.
That worrying picture has contributed to a challenging year for Perth CAB in whose annual report it is plainly laid out.
The organisation's largely volunteer staff has contributed 17,000 hours of unpaid work over the past year as it has met increasing demand for its services at a time when securing funding is difficult for all charitable organisations.
Its annual report for 2016/17 details a 16% rise in those seeking help, compared to the previous year.
Others have turned to alternative support services for aid, such as Perth and Kinross Council and the debt advice charity Christians Against Poverty.
Perth CAB's Sandy Watts said: "This was another challenging year for Perth CAB, with a 16% rise in the number of enquiries received and increasing complexity in many issues.
"The continuing impact of welfare reform changes has affected many people, especially people with disabilities and life-limiting health conditions, while the introduction of Universal Credit is continuing to roll out for a narrow group of people, bringing with it a variety of problems.
"We also saw a 60% increase in applications for charitable support, including food parcels, which reflects the growing number of people who find themselves without adequate resources for even the basic essentials such as food and heating."
Amidst the challenges, Perth CAB succeeded in helping many people address their debt, intervened with creditors on more than 2,000 occasions and helped local people secure more than £2.8 million in benefits.
Report is concerning say local politicians
Perth and Kinross Council's SNP group leader Dave Doogan said the effects of the area's low wage economy remain deeply worrying.
He also believes the concerning information contained within the Perth CAB report is evidence that local people had been failed by UK Government welfare reform.
"The work of organisations like the Perth CAB whose work is vital in assisting hard pressed families across Perth and Kinross," Mr Doogan said.
"What its report highlights is that for many here in Perth and Kinross household finances remain seriously strained and the need for charitable support worryingly high.
"We have very low unemployment in our area, which exposes the real misery for many of working hard but still not managing to make ends meet.
"For those in receipt of welfare benefits too, the pursuit of sanctions against some of our most vulnerable people is much to be regretted."
Perth and Kinross Council plays a role in supporting the work of Perth CAB and has for many years provided significant funding towards the bureau's debt advice service.
While council Leader Ian Campbell also expressed concerns, he said the local authority was working hard to help those in need.
"It was disappointing to see in the CAB report the rise in local people approaching foodbanks," Mr Campbell said.
"It is also concerning that the Oxford University study into foodbanks commissioned by the Trussell Trust highlighted that the majority of foodbank users were lone parents and single males and that those who were disabled were overrepresented amongst users.
"Our Welfare Rights team also focus their attention very much on these members of our community.
"The encouraging aspect of this report was its conclusion that full time employment was the best way for people to avoid the need to use food banks.
"In Perth and Kinross we have a very high employment rate and this is important to try and maintain going forward in order for us to help reduce the need for foodbank use."
Analysis: In-work poverty
Perth and Kinross is faced with a thorny problem to which there is no easy solution.
The region is still seen as affluent and, on the face of it, low unemployment is a huge positive.
That masks a wealth of issues, however, not least the area's hugely problematic low-wage economy.
Many of the jobs available are part-time or simply insufficiently paid to adequately support individuals – and families in particular.
At the same time, price rises for food, energy and transport have outstripped the value of many wages.
Lazy assumptions about frivolous spending cannot be made as all too many of those who are struggling are doing so simply because of the high cost of those essentials.
Perth and Kinross Council is working hard to attract new jobs to Perth and the wider Perth and Kinross area but the process is slow.
The Perth 2021 bid document outlined high value areas that the council should look to attract investment in – such as the creative and digital sectors.
It will be important that such plans and ambitions do not disappear with the failure of the bid to reach the competition shortlist.
In rural areas, meanwhile, entrepreneurship is alive and kicking and a vibrant part of many communities but self-employment brings its own challenges and can also be low-paid.
Clearly there are all too many issues for the region to address and it will not be simple.
Without a concerted strategy it will be difficult to lift its residents free of financial struggle.