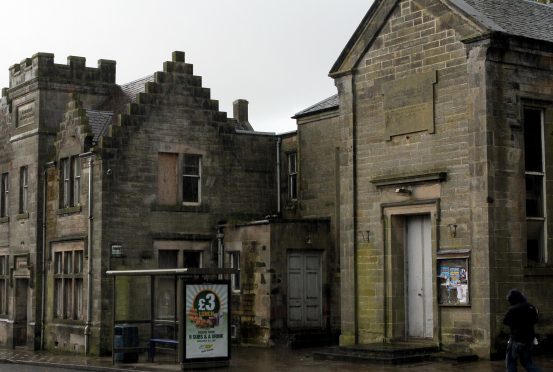 A plan to transform historic listed buildings in Kinross-shire into nine flats has been approved by Perth and Kinross Council.
The local authority granted planning permission for the proposal to convert a group of disused former civic buildings in Kinross, including Kinross Town Hall, the Old Post Office and the town's clock tower, under delegated powers.
The new development will see a mixture of one and two-bedroom flats along with town houses at the site which has lain empty since 2003. The council marketed the buildings over the course of the last 10 years but their condition deteriorated, leading to them being listed in the Buildings at Risk Register for Scotland.
Planning applications submitted by the current owner were withdrawn last year due to concerns over bin storage, overlooking neighbouring properties to the rear, and the requirement to address unauthorised works carried out by the previous owner.
The present application will see the installation of detailed timber windows and doors.
A design statement submitted by development consultancy firm Edinburgh MI, on behalf of the building's owner, Daniel Multon, states: "As noted within the TAYplan and the local development plan for Perth and Kinross, there is a substantial requirement for housing in the area and it seems to concentrate most developments within Kinross where local services, employment and transport are to be found and provide the best solution to deal with waste water.
"This proposal seeks to satisfy these points and, crucially, bring a significant historical building group that has played such an important role to Kinross back to life.
"The nature of this development, the location and character of the building lends itself to a distinct form of urban town living."
The statement continues: "This attractive terrace of buildings, developed over a significant period, represents the former civic centre of Kinross. The varying architectural styles and setting adds to the interest and relationship to the High Street and reflects the significance the buildings had in the Kinross Burgh."
The buildings include the former Town Hall, built in 1841 ( B-listed); Old Post Office, also built in 1841 (B-listed); the former Carnegie Library, built in 1905 (C-listed) and the old Clock Tower, built in 1751 (B-listed).
The design statement confirms that the clock and its mechanism are "in good working order" and will be retained.