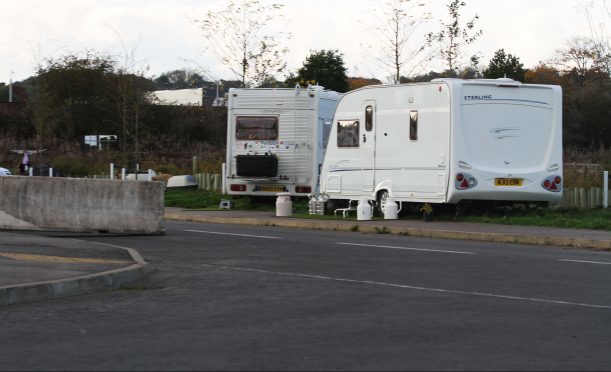 A group of Travellers who have occupied land on the outskirts of Perth claim they have "nowhere else to go" and have called on the council to build them a site.
Local politicians were angered when caravans and vans arrived at the Arran Road entrance of the council's food and drink park project over the last few days.
The Travellers were accused of moving large concrete barriers erected to protect the site but it has emerged they were not the culprits and the blocks had been shifted to allow construction traffic in.
The new encampment comes only weeks after the previous six-month occupation of the site came to an end when the council threatened legal action.
Following the reoccupation of the site Conservative MSP Murdo Fraser called for greater powers for councils to evict unauthorised camps.
In response, one of the Travellers, who asked not to be named, contacted The Courier to put their side of the story.
"We are waiting for the council to give us a place, we have nowhere to live," said the man whose family have been Travellers for generations.
"There should be a place in Perth where people can stop for a couple of weeks here and there. I can sympathise with the council but we have nowhere else to go. There are plenty of places around Perth for a site. We would rather not be here."
The man said the current set up was far from ideal but he envisaged them staying there until after Christmas.
He said it was in a traditional area where Travellers had stopped for many years, stretching back to before the Second World War.
The council had said the cost of clearing up at the site over the past year was nearly £3,300, a figure the Traveller had an issue with.
"I cannot understand that, the council gave us bags for our rubbish and then picked them up, we kept it clean and tidy," he said.
He also said that general rubbish in the area was the result of fly-tippers and was not connected to the Travelling community.
Councillor Chris Ahern said he had a positive meeting with the Travellers on Monday to discuss the situation and to seek a solution.