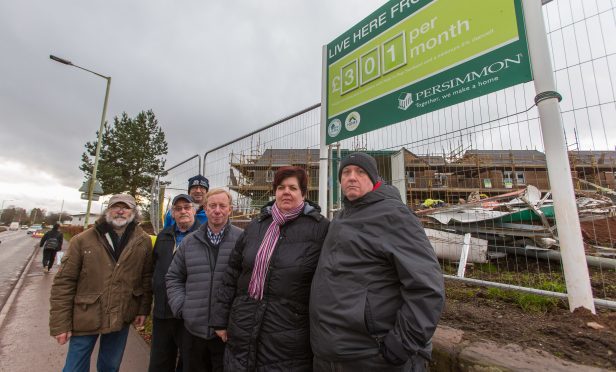 One of the UK's largest house-building firms  has been dubbed the developer from hell following a row over housing in Kinross.
Councillors are now calling for swift action to be taken to curb the actions of Persimmon Homes.
One elected member has even demanded that the firm be "blacklisted" from lodging future applications.
Tensions have been running high for months between the community in Kinross and Persimmon, with locals claiming the company has continually ignored planning conditions.
Matters came to a head when the company continued working out of hours on their Latho Meadows site despite not having permission.
"This latest breach in planning conditions is just one in a long line on both the Persimmon sites in Kinross," said local councillor Willie Robertson.
"As a company they appear to have a total disregard for both planning conditions set by the planning authority or to the effect their actions have on the quality of life of those unfortunate enough to live close to one of their building sites."
Mr Robertson said other complaints he had received included dust, mud on roads and heavy construction traffic on unsuitable residential streets.
"We have all heard stories about the neighbours from hell," said Mr Robertson.
"Persimmon appear to be the developers from hell."
He suggested that, if it were possible, the council should blacklist them from lodging future planning applications "until such time they were able to prove that they would treat conditions seriously".
Fellow councillor Callum Purves added:  "Local residents are rightly very angry that developers have continually been able to flout the conditions that were attached to their planning consent."
The council said they had been asked by Persimmon to allow weekend working but this was declined as there wasn't enough time to inform local people.
"As this is not the first time we have had to contact the developer about a breach to planning conditions, the council is preparing formal enforcement action to serve on Persimmon Homes," said a spokesperson.
Iain Innes, managing director at Perth-based  Persimmon Homes North Scotland,  apologised for any disturbance to local residents by working over a weekend but did not elaborate on why it was carried out without permission.
"We are in the business of building quality new homes and we work hard to cause as little disruption to the local community as is possible but site traffic and some construction noise is inevitable," he said in a statement.