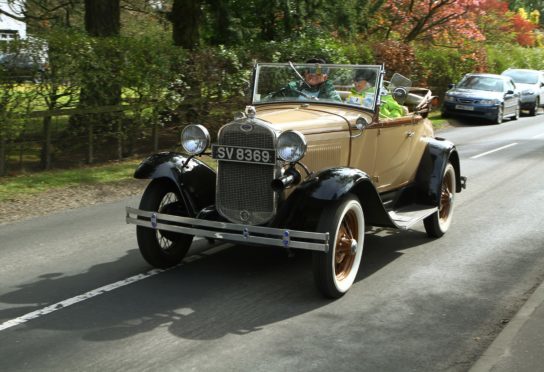 A major classic car event to be held in Perthshire has been given a royal seal of approval.
President of the Motor Sport Association of Britain, Prince Michael of Kent, will be the guest of honour at the classic car festival on April 21 and 22.
"The Rotary Club of Blairgowrie, working in partnership with Scone Palace and Perth and Kinross Council, is organising what promises to be Scotland's premier classic car weekend in 2018," said Colin Stewart, chairman of the organising committee, at the event launch.
"It will incorporate three spectacular events, spread over two days. We are encouraging all to come and join us for what should be a fantastic series of events over the weekend."
The event begins with the City of Perth Classic Car Parade on April 21 when 150 of the UK's best classic cars, dating from 1900 onwards , will leave from Scone Palace heading for Perth via the old bridge.
The cars will be displayed along Tay street for two hours and there will be a running commentary from Colonel Alastair Hutton of Edinburgh Tattoo fame as they leave to return to Scone
They will pass over Perth Bridge preceded by a red flag, as was required according to the 1879 sign located on the bridge.
The 150 parade cars will be joined at Scone by 300 other cars belonging to members of Scottish car clubs.
At the palace there will also be vintage buses, military bands, an air display, and attractions.
On April 22 there will be the Blairgowrie Drive It Day when  80 classic cars will leave from Blairgowrie Golf Club,  on a 120 or 140 mile drive
Prince Michael of Kent will drive one of the cars along a route which will go through Blairgowrie town centre, along the new snow road into Aberdeenshire before returning to Perthshire and eventually Scone Palace.
All proceeds from the weekend will be donated to Cancer Research UK, Alzheimer Scotland and the Rotary Foundation.