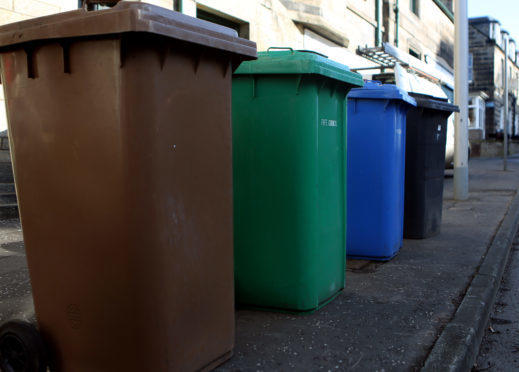 A controversial decision to charge residents £25 to use a brown bin for recycling garden waste could lead to an increase in fly tipping, it's been claimed.
The move, which will see permits come into effect from April 1, was originally agreed by Perth and Kinross Council in February last year.
Councillor Anne Jarvis, a Scottish Conservative representative for the Strathtay ward, claimed the £25 payment for the use of the brown bin will raise around £840,000 on the basis of 50% of residents continuing to use the service.
However, several residents are up in arms about the move, with many claiming people will not pay the permit fee and this will lead to fly tipping.
A property agent in Perth, who wished to remain anonymous, said: "Personally, I do not support this eco tax  — we should be encouraging more recycling, not charging extra for it.
"My key concern is much wider and it relates to fly tipping. Many of our clients have farms near or on the urban fringe and suffer significant tipping of garden waste already from both their neighbours and the wider public.
"I can see this charge only making matters much worse."
And Martin Hope, of Perth, added: "I do not think that this council have thought through this topic as I am sure it will lead to increased fly tipping and more use of the green bin for garden rubbish."
Meanwhile, Neil Thompson, of Stanley, commented: "I fear fly tipping may be the result of the extra charge for garden waste. Would it not have been easier to just put the extra cost on to the Council Tax bill?"
Former councillor John Kellas, of Bankfoot, previously slammed the permit move, claiming he had been "inundated" with phone calls from irate residents who don't wish to pay the £25 for the use of the brown recycling bin.
A spokesperson for Perth and Kinross Council said: "In relation to fly tipping, we recognise that there may be concerns and we would continue to advise residents to report instances of fly tipping to us or to SEPA (Scottish Environment Protection Agency).
"We will investigate and take appropriate action. Where fly tipping occurs on private land it is for the landowner to clear up the dumped waste.
"More generally, other councils have already introduced a chargeable garden waste service and we are not aware of their experiencing any increases in fly tipping as a result."
She continued: "It was agreed through the council's budget setting process at the full council meeting on February 22 last year that a charge for the collection of garden waste will be re-introduced in Perth and Kinross from April 1.
"Householders who choose not to purchase a garden waste permit can dispose of their garden waste free of charge at any of our recycling centres around Perth and Kinross.
"Cut grass and other garden waste (small twigs and branches, leaves, cut flowers, houseplants, weeds, hedge clippings, sawdust, bark and hay) are by their nature biodegradable.
"Grass cuttings can be left on householders' lawns/grassed areas, as the cuttings will break down and fertilise the growing grass underneath. Anyone generating other garden waste may wish, if their garden suits it, to consider home composting."