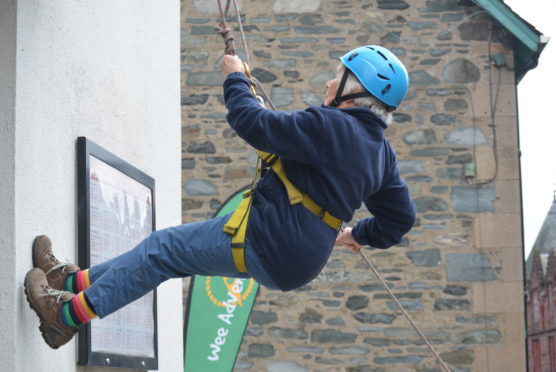 More than 120 daring film fans – aged from eight to 80 – have gone above and beyond in showing support for their community cinema.
The intrepid residents all abseiled off the roof of The Birks Cinema to raise around £6,000 for the Aberfeldy venue.
Support for the abseil came from across Highland Perthshire and beyond to mark the fifth anniversary of The Birks Cinema's opening.
Cash raised will be spent on a refresh of the cinema's auditorium and café.
One of the most daring that took part was local resident Margaret Jarvis. Aged 80, she was the oldest participant.
She said: "I'd love to do it again."
And at the other end of the age range, Breadalbane Academy primary pupil Jack Dimmock was thrilled his eighth birthday arrived in time for him to take up the abseil challenge. He also persuaded older sister Beth and mum Claire to join him in the feat.
Katherine and Scott Rix, of Stanely, also took part when they returned to the scene of their wedding three years ago.
"We got married in the cinema's auditorium and this time we've brought our four-month-old baby, Skye, along," Mrs Rix commented.
"It's great to have another memorable day at The Birks Cinema and introduce Skye to the special place we got married."
Meanwhile, Tony Taucher, of Strathtay, abseiled down the cinema in his kilt.
He said: "I walk the hills in this kilt and it was no more draughty than that."
John Freeman, chair of The Birks Cinema Trust, rounded off the day by raising a new flag above the cinema.
He said: "It's been an inspiring day when the community has raised more than £6,000. I'd like to say a big thank you to everyone who's taken part, those who made the abseil possible and all those who made donations in support of this special community venue."
Outdoor sports specialists Wee Adventures helped the participants and were supported by volunteers, including Dave Fowler and Dave Girling from Perth College UHI.
The abseil challenge is one highlight of a season of community-focused events and special screenings throughout the year to celebrate bringing back big screen entertainment to Aberfeldy.
Aberdeldy-born Hollywood actor Alan Cumming recently returned to his home town to host a special movie screening to celebrate the fifth anniversary of the re-opening of the cinema.